"Lookin' over my shoulder, hopin' nobody told her, I'm back in town." So goes the chorus on the opening track of John R. Miller's new album, Depreciated. It's a good introduction to a loose theme that you can't go home. And even if you could, maybe you shouldn't. He wraps those observations up in a vocal delivery that's as comfortable as an old pair of boots and then his band layers on musical accents that seamlessly melt into Miller's own guitar work.
Several of the songs on the record trade on used cars as a life metaphor. Borrowed Time delivers a southern rock approach to a song about the inevitability of what's going to happen. It's also a good example of Miller's ability to turn a phrase when he notes it's "depreciated like a double-wide trailer sitting on a salt mine." Motor's Fried is a finger-picking homage to Prine or Clark or Van Zandt when it delivers a lecture about keeping the proper attitude, "don't sink the boat just because your motor's fried." Half Ton Van is an old school, boom-chicka beat, country tune about a well-used vehicle where "your best offer is my worst fear."
That old school country vibe also threads through Old Dance Floor, a perfect two-step number about a one-sided relationship that's finally over. Back And Forth is an absolutely lovely country waltz telling the tale of a world weary and wise woman who will never be there for more than the night. Coming Down is a ballad focused on that theme of not being able to go home. The album finishes with Fire Dancer and an admission that life has moved on and even if you do go home, you can't stay long anymore.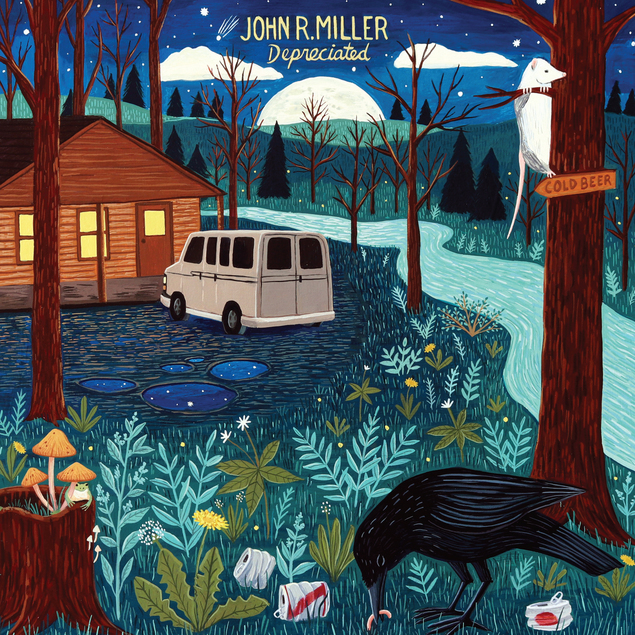 John R. Miller weathered out the pandemic in his newly adopted home of Nashville. As he began writing the songs that would become Depreciated he came to the realization that the West Virginia chapter of his life had closed. I think that realization ended up adding some heartfelt meaning to stories that were already well-crafted. The result makes Depreciated one of the best singer-songwriter records I've heard this year.
---
About the author:
I've actually driven from Tehatchapee to Tonopah. And I've seen Dallas from a DC-9 at night.
---