One of my favorite John Prine songs, Dear Abby, has a line in the chorus that "you are what you are, and you ain't what you ain't."  That simple but astute observation does a pretty good job of describing Prine's music and musical sensibility.  Think about it: when you tell a friend about a musician they haven't heard you always end up with some version of "and they sound like…."  Well who does John Prine sound like?  He's carved out a unique niche for himself, and there are few higher honors than telling a singer-songwriter they're like John Prine.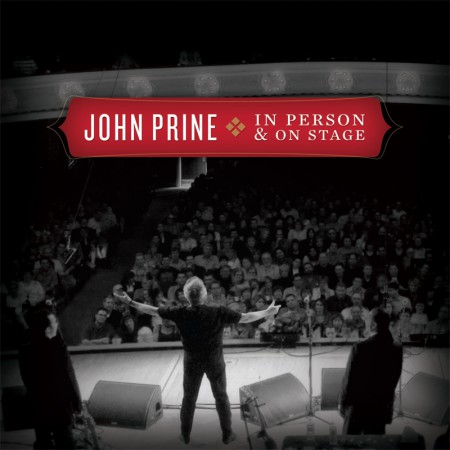 John's latest album, In Person & On Stage, is a collection of songs taken from a series of concerts a few years ago.  It's kind of odd in this day and age of morning-after YouTube concert footage to hear material dated like this.  But it slowly dawns on you that his frame of reference is different, like a majestic redwood looking down on some puny fruit tree.  One of the better songs on this album is Your Flag Decal Won't Get You Into Heaven Anymore, a song Prine wrote in 1968 and decided to bring out of retirement as commentary on our previous president.  There's also a duet with Emmylou Harris of Angel From Montgomery.  He's been performing that one when he has female guests/co-singers since at least the mid-eighties when a version he did with Bonnie Raitt laid raw the kind of life long despair that turns a soul cold and lifeless.
Having said that, the majority of the album are works from the last 20 years, you know, new stuff.  There's a delightful lo-fi take to several of the songs, like Bear Creek Blues and Glory of True Love.  It's just electric guitar, electric bass, and vocals.  But it sounds good loud.  The collection also has its share of the acoustic character studies that are a hallmark of Prine songs.  There's a great version, with Iris Dement, of In Spite Of Ourselves, and a take on the popular Spanish Pipedream.  And with a proper flourish, the album ends with many people's favorite, Paradise, featuring Kane, Welch, and Kaplan with some tasty licks to close things out.
So unless you already know you don't like John Prine, my recommendation is you go out and "blow up your TV, throw away the paper, go into the country, build yourself a home" and find John Prine on your own.  His latest album, In Person & On Stage is a good place to start.
---
About the author:
I've actually driven from Tehatchapee to Tonopah. And I've seen Dallas from a DC-9 at night.
---