I've never made it a secret how much of an influence John Hartford's music had on me. Yet I surprised even myself when I realized On the Road: A Tribute To John Hartford was my favorite album of 2020. I suppose in this year of chaos the combination of new versions of songs I've loved for decades was why this record topped my play count by a good margin. Be sure to check out Horseshoes & Hand Grenades take on Let Him Go Mama, and Sydney Clapp and Greg Garrison doing Tear Down the Grand Ole Opry. That same combination of new and old no doubt drove my appreciation for Marshall Chapman's collection of songs that most influenced her, Songs I Can't Live Without.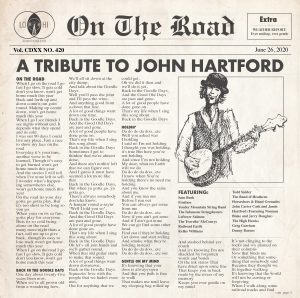 I can't really write a review of 2020 without acknowledging the loss of John Prine. The tributes and covers of his catalog that came out this year are too numerous to count. I can think of three in particular that stuck out for me. Gillian Welch & David Rawlings did a heartfelt Hello In There on All the Good Times. Kelsey Waldon conquered the masterpiece Sam Stone on her protest record, They'll Never Keep Us Down. Elizabeth Cook did a brilliant reimagining of a Prine classic with her Mary, The Submissing Years from Aftermath.
I wasn't entirely stuck in the past this year and listened to plenty of first-timers and relative newcomers. Skylar Gregg blew me away with Roses. Jesse Daniel's second release, Rollin' On, is star material. Nocona knocked it out of the park with their rootsy, rocking Los Dos. Sarah Siskind took me down a new path with her jazzy Modern Applachia.
Finally, there were excellent new releases from some of my long time favorite artists like Chris Stapleton, Ted Russell Kamp, Lydia Loveless, the Wood Brothers, and Band Of Heathens.
Here's my full list.
On the Road: A Tribute To John Hartford
Chris Stapleton – Starting Over
Jesse Daniel – Rollin' On
Marshall Chapman – Songs I Can't Live Without
The Band Of Heathens – Stranger
Gillian Welch & David Rawlings – All the Good Times
Western Centuries – Call the Captain
Sarah Siskind – Modern Appalachia
Ted Russell Kamp – Down In the Den
Skylar Gregg – Roses
Miss Tess – The Moon Is An Ashtray
Elizabeth Cook – Aftermath
Lydia Loveless – Daughter
Nocona – Los Dos
Sturgill Simpson – Cuttin' Grass, Volume 1
The Wood Brothers – Kingdom In My Mind
Kelsey Waldon – They'll Never Keep Us Down
Sarah Jarosz – World On the Ground
Tawny Ellis – Love Life
American Aquarium – Lamentations
---
About the author:
I've actually driven from Tehatchapee to Tonopah. And I've seen Dallas from a DC-9 at night.
---