For the posse here at Twangville, it's always fun to sit around and shoot the breeze as we discuss our favorite new releases. Some of them, like the recent album from the Drive By Truckers, deserve a bit more attention, sometimes. The Hold Steady (Official / Myspace) is one of our favorite acts 'round these parts, and we wanted to provide you with a tag-team approach to what will be one of the year's better albums.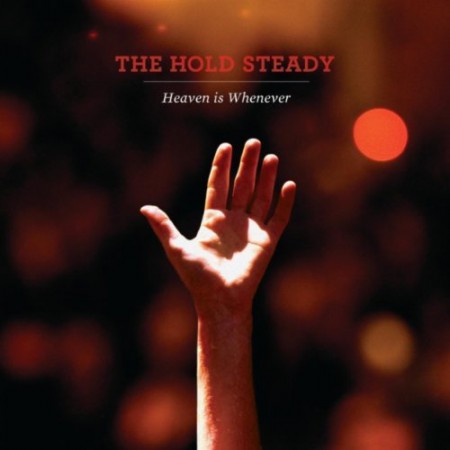 Chip says –
With the departure of Franz Nicolay, there was the possibility that The Hold Steady would lose some of the texture his keyboards added to their music. With the opening mid-tempo "Sweet Part of the city," it is apparent they would find another way. They use a rootsy slide guitar to drag you into the song. Anyone who has seen The Hold Steady live knows that Tad Kubler is an accomplished guitarist, and the band has clearly brought his guitar work to the forefront. It may have changed their sound a bit, but there is certainly nothing missing. They still crank out the literate Rock songs they always have. In fact, certain songs like "Smidge" invoke a 70's arena rock sound. Additionally, they still have Craig Finn's poetic stories, so there is nothing changed there. In short, they are still The Hold Steady and that is all that counts.
Mayer says –
The Hold Steady just may be the true boys of summer. As I type, I'm sitting on my back porch basking in the sun while "Hurricane J" is blaring. Gotta say, it doesn't get much better. The band doesn't write songs as much as they write anthems. Tracks like "Hurricane J," "Soft in the Center" and "The Weekenders," with their chugging power chords and and sing-along harmonies were made for days like these. On May 4th I hereby declare that summer has begun.
Kelly says –
For all the folks that like to compare the sounds of The Hold Steady to other acts, there are plenty of obvious comparisons to be had, even though Heaven is Whenever boasts an altered sonic. That being said, there aren't too many contemporary comparisons for the way that Craig Finn tells a story inside of the Hold Steady's power-chord rocking tunes.
While nothing new to their catalog, for me, what sets so many of their songs on their anthemic course arent the melodramatic stories themselves, but the way in which Finn tells them to us. Finn basically serves as a detached, sometimes nerdy, and literate narrator, huddling near the side of the stage where the drama unfolds. In "Barely Breathing", Finn sets the table with "you should've seen them just after midnight". Simple, but extremely telling. The fact is, such a third person style would easily grow tiresome, if there werent so many juicy, if uncomorftable, tales of young, dysfuncitonal love and experimentation roll out before our very ears.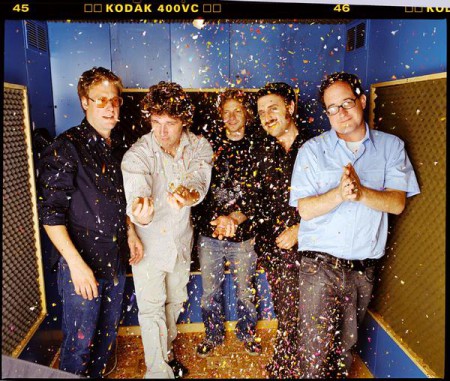 Eli says –
Opening with a riff straight off of Let It Bleed, Heaven Is Whenever seemed like the record Craig Finn had been promising us, different, more complex, and less anthemic. For better or worse (and I imagine most of us will same the former), this isn't quite true. While HIW veers less towards the Springsteen, heartland rock that Boys and Girls In America and Stay Positive incorporated and more towards Let It Be-era Replacements, this is the same Hold Steady you fell in love with back when Almost Killed Me blew your socks off.
They may have more background vocals and couple extra instruments in the mix (flute solo anyone), but it's the same band. And thank god for that. And I can see what Craig Finn was getting at with the less anthemic thing. This record doesn't feel quite as BIG as Stay Positive or Boys and Girls In America, but damnit if I'm not already in love with half the songs on the album "Soft in the Center", "The Weekenders", "Hurricane J", "We Can Get Together", and "Our Whole Lives" (love the horns and the lyrics on this one). With 10 songs clocking in at 40 minutes, the record works remarkably well as a single sitting listen and I almost never skip a song, which I couldn't say about Stay Positive. So in summation, The Hold Steady have put together a record that might not surpass past achievements, but hey it is a damn good rock and roll record.
Tom says –
If asked "What's the best Hold Steady album?" most would probably say 'Separation Sunday'. I can't blame them. The songwriting is superb and Craig Finn's vocal chants are brilliant. It's a concept album and a fine one at that. For me, 'Stay Positive' reigns. The difference I believe is that 'Stay Positive' is where the band caught up with the prowess of Finn. Whereas, 'Separation Sunday' is the Craig Finn show, 'Stay Positive' the beast wakes and the Hold Steady come to life.
With just a few listens of 'Heaven is Whenever' you'll hear a consistent approach thematically. Many songs are still about conflict, bohemia, and religion. As soon as "Soft in the Center" the album's second track kicks in you know it's party time and the elements that made 'Stay Positive' great are still in play. Coming soon to an arena near you, the Hold Steady are comin' and they're taking prisoners. Beware of the cowbell, a secret weapon on 'Smidge'. 'Heaven is Whenever' moves straight to the top of my list for Album of the Year and it's going to take a serious competitor to contend. [★★★★★/4.7]
– Twangville Posse, May 2010
As you can tell, this is a record worth talking about. We've enjoyed it so far, and hope you do to, dear neighbor. So, in closing, let's raise a glass to St. Joe Strummer and welcome in the summer.
---
About the author:
I likes me some wine, women and waffles, not always in that order (but usually). Chaucer is cool, but fart jokes are even better. You feel like spikin' your country with a little soul or mix in a little rock without the roll? Lemme hear from ya!!
---