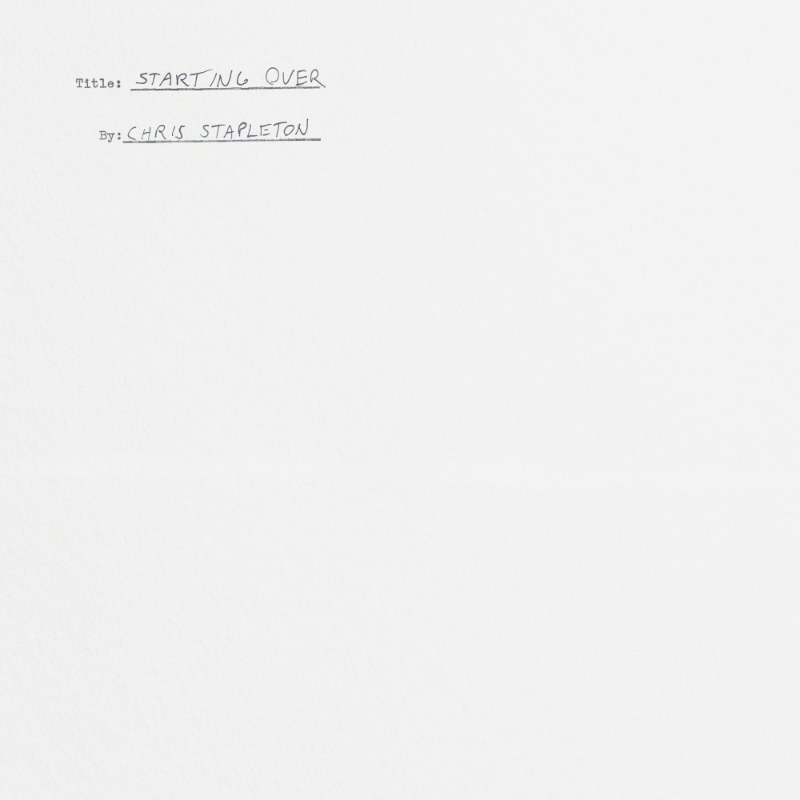 Best Album of 2020: Chris Stapleton – Starting Over
If you'd have told me a year ago that I'd be selecting Chris Stapleton as my choice for album of the year, I'd have told you that you were crazy. Past efforts had been a tad too countrified for my taste, but somehow Starting Over hit a sweet spot. I think it could be that this record brings a soulful edge that I had not picked up on prior. Clearly, I was not paying close enough attention.
Starting Over had me at the first listen of "Cold" which is heart-wrenchingly powerful. But, let's not leave it to sound alone. The songwriting in this album is full of introspection and wisdom. He ends the album with what looks to be a "thank you, next" addressed to Music City in "Nashville, TN".
Now you won't miss me when I'm gone
You're custom made for movin' on
And time to time I'll pass you by
Face that I don't recognize
And who knows, maybe years from now
You'll be the one I think about
But I just can't imagine that
'Cause I'm not one for lookin' back
All I can say is, pour yourself something sweet and crank this one to eleven—you won't be sorry. If you don't believe me, try turf-quaker "Arkansas" on for size. How it took four albums, I'm not quite sure. But, I'm officially riding the train from Twangville to Stapletown. Cheers!
Standout tracks: Starting Over, Cold, Arkansas, Whiskey Sunrise, Nashville, TN
Chris Stapleton performing "Starting Over" at the CMA Awards 2020
Tom's Top 25 of 2020
Chris Stapleton – Starting Over
The War and Treaty – Hearts Town
Jason Isbell & The 400 Unit – Reunions
Kathleen Edwards – Total Freedom
Katie Pruitt – Expectations
Marcus King – El Dorado
American Aquarium – Lamentations
The Wood Brothers – Kingdom in My Mind
Larkin Poe – Self Made Man
Nathaniel Rateliff – And It's Still Alright
Lori McKenna – The Balladeer
Ruston Kelly – Shape & Destroy
Phoebe Bridgers – Punisher
Margo Price – That's How Rumors Get Started
Dustbowl Revival – Is It You, Is It Me
The Secret Sisters – Saturn Return
Sarah Jarosz – World On The Ground
Old 97's – Twelfth
Jeff Tweedy – Love Is The King
Sierra Hull – 25 Trips
The Beths – Jump Rope Gazers
Mipso – Mipso
Aubrie Sellers – Far From Home
John Cragie – Asterisk the Universe
Austin Lucas – Alive In the Hot Zone
Just for fun, here's some picks (not predictions) for the 2020-21 Grammys:
Best New Artist: Phoebe Bridgers
Best Contemporary Instrumental Album: Christian Scott aTunde Adjuah — Axiom
Best Rock Album: Daylight – Grace Potter
Best Americana Album: El Dorado – Marcus King
Best Bluegrass Album: Home – Billy Strings
Best Traditional Blues Album: Rawer Than Raw – Bobby Rush
Best Contemporary Blues Album: Up and Rolling – North Mississippi AllStars
Best Folk Album: Saturn Return – The Secret Sisters
---
About the author:
Washington, D.C. area web designer by day. Music is my muse. I host Twangville's weekly Readers' Pick.
---