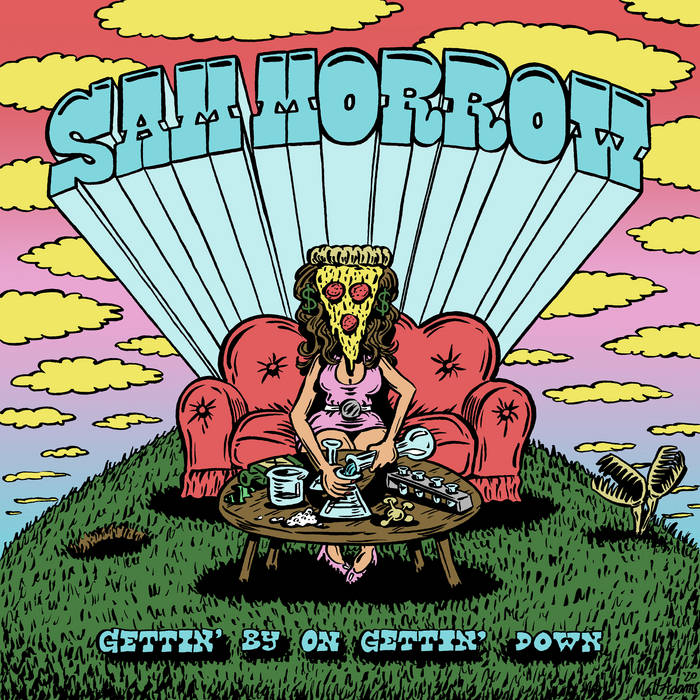 Sam Morrow's previous release "Concrete and Mud" walked the line between Country and Rock. This made sense given the songwriter was Texas born but had moved to Los Angeles. He was definitely fusing his roots with his newfound locale on the record. It was also a successful fusion and garnered much critical acclaim. On his upcoming release, "Gettin' By On Gettin' Down" the Country is left behind. It is a straight up Rocker, with a little Funk and Soul thrown in for good measure. However, his Southern roots aren't discarded completely. At times, his voice sounds hauntingly like Ronnie Van Zant, and musically some songs are an homage to Southern Rock. The influence of Little Feat is hard to miss on this project. A perfect example of this is the song "Money Ain't a Thing". Morrow's goal was to capture the feel of his live shows, which are generally hip shaking affairs. To be sure, these efforts were successful on "Gettin' By ON Gettin' Down" in a big way.
To seal his vision for the recording, Morrow used an impressive group of local musicians. First he turned to drummer Matt Tecu, who appeared in the excellent documentary "Echo in the Canyon", backing up stars like Jakob Dylan, Brian Wilson and Neil Young. Tecu provides the backbeat while co-producer Eric Corne ties in all together and creates a singular vision. Other musicians that helped on the recording were guitarist Doug Pettibone and bassist Taras Prodaniuk, both veterans of Lucinda Williams' band. The album was recorded over six days at the L.A. studio owned by The Doors' guitarist Robby Krieger. Morrow and Corne adopted layered arrangements to create the live atmosphere for which they were searching. Standout songs are the swampy funk opener "Rosarita", the fuzzed out Title track, the above mentioned "Money Ain't a Thing", and the electric Blues of "Round 'N Round".
In a year where we have been separated from live music, "Gettin' By On Gettin' Down" is about as close as you can get. The release date is October 30th.
---
About the author:
Chip and his family live in Birmingham, AL. Roll Tide!
---