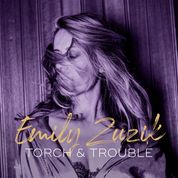 After two Video Premiers most of you should be aware that I am excited about the new Emily Zuzik release "Torch and Trouble". The album id finally releasing after a bit of a pandemic caused delay on Friday, August 28th. Zuzik is an L.A. based singer-songwriter. Her music is a blend of Americana and Rock with a little bit of Memphis Soul added. Emily has been a recording and touring independent artist for over 15 years. She has written with artists such as Grant Langston, Ted Russell Kamp, Benji Rogers, Moby, Wes Hutchinson (Sundown) among others. She has again teamed up with Ted Russell Kamp for production for "Torch and Trouble". It was recorded by Mark Rains at Station House Studio and Ted Russell Kamp at The Den Studio; mixed by Mark Rains and mastered by Duncan Stanbury at Groove Mastering.
The two previous releases from the album premiered here on Twangville were "Trouble" and "All that Love". On "Trouble", Zuzik channels Sheryl Crow on a driving power chord laden Rocker that was co-written with Benji Rogers. The song is a tale of one woman's struggle with a love interest that is bad news and she knows it. "All That Love" is more melancholy but no less passionate. It is a song about a broken relationship using a rundown house as a prescient metaphor. It is the story of closure, forgiveness and moving on. Recently she released another single "Stay Wild", which showcases heartland rock at its finest. Zuzik says of this song, "This song is about letting go of someone who is complicated and unabashedly more intense than what is good for you. It's wrecking you to be with them, but you don't want them to change their ways, so you have to let go and wish them well".
My personal favorite song on the album is "Chinese Food and Donuts", which she describes as "Romantic Blue Bayou meets Country Rock". However, I also hear a bit of Laurel Canyon on this one. I asked Emily about the source of the song she said it came from "solicited titles for country songs from my friends on Facebook years back because I was trying to get a country project off the ground and a friend gave me that one. It was instantly provocative and immediately gave me the lyrics. Years later, Ted (Russell Kamp) helped with some lyric tweaks but the vibe came solely from the title which at the time seemed very LA to me as a recent NYC transplant". As to the vibe of the song consider these lyrics, "We start off with Mushu and memories for all the regrets in my heart. Remembering lost loves and places where I could have stayed and played out the part. I try to end it all sweetly, so I'll order a cruller it's fine. Maybe the answers will hit me if I let them linger with time". There is nothing better than humorous metaphor.
Emily Zuzik's "Torch and Trouble" is a dynamo that covers the gamut of Americana. She will make you dance and break your heart in the span of the space between songs. So order in some Mushu and Memories, sit back and listen.
---
About the author:
Chip and his family live in Birmingham, AL. Roll Tide!
---