They say you should always dance like you think no one is watching. I think the same thing applies to air guitar and drums. Wail and flail. If you want a good soundtrack to do that to, I'd suggest the new album from LA-based roots rockers Nocona. Entitled Los Dos, it has a garage band energy though-out that demands physical movement as an accompaniment to listening.
About half of the songs on the record channel some of the best rock of the 70's. Free Throw has a kind of lazy beat that still rocks, and a singing-in-a-tin-can vocal presentation Joe Walsh would have been proud of doing. Tabernacle Woes takes an English psychedelic rock path with lead vocalist Chris Isom putting a Richard Thompson-esque spin on acoustic guitar. Never Come Back is a country rock number with some outstanding fiddle and steel guitar riffs.
Several of the songs have an alt country feel. Chester races down a lament about being an adult that comes in at a punk-ethic 2 1/2 minutes. Too Much To Lose has the same pace, but in an unexpected turn drops in a Southern rock guitar solo to go with the sound of an upright piano. Post Apocalyptic Blues gets an almost honky tonk feel to a tale about how it can't get any worse, and in a nice bit of production sounds like it was recorded at your buddy's house.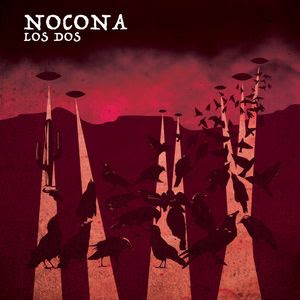 Nocona really taps into a retro sound with this project. Anyone who's spent time digging into roots rock music, or like me is just old enough to remember it firsthand, will recognize this music. The entire album is originals, but they are instantly recognizable. That plus the instrumental prowess of the band combine to make Los Dos as comfortable as it is stylish.
---
About the author:
I've actually driven from Tehatchapee to Tonopah. And I've seen Dallas from a DC-9 at night.
---