If you've been a fan of the legend of Neil Young, you probably rejoiced when hearing about his long-rumored "Homegrown" album. Many of the songs have appeared elsewhere but an official release from Young's critically acclaimed 1970s period (the album was recorded in 1974 and 1975) is surely a reason to get excited. Young calls it "the sad side of a love affair" that he wanted to forget.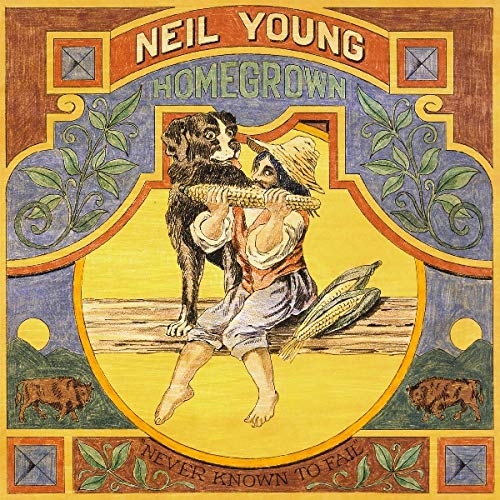 Does it live up to the hype? Well, it certainly retains much of the stylistic hallmark's of Young's 70s acoustic classics, albeit in a more downbeat fashion. Take the first two tracks "Separate Ways" and "Try" for example. Both move at a languid pace as Neil Young croons about lost love over acoustic guitars, honky tonk piano, and weepy pedal steel lines. "Separate Ways" is a bit more bitter, while "Try" adds in country swing and piano to the mix.
"Mexico" strips back everything but the piano in the style (although not as compelling). On the other hand, "Love is a Rose" is truly a lost classic. It seems to embody the lost love that Neil Young mentioned when introducing the album. Its acoustic longing is evident in only the way that Neil Young could do it.
The record is more than acoustic country rock as show by the title track, "Homegrown." The song has been kicking around for a long time and the rock treatment compliments the song perfectly. The riff could be on Neil Young's classic rock record "Everybody Knows This Is Nowhere" and the guitar tone rings true.
The album loses some steam until it hits the two acoustic tracks "Little Wing" and "Star of Bethlehem" to close out the album. Both are strong, but "Star of Bethlehem" would sit neatly with Young's best acoustic work (with beautiful harmonies).
Neil Young has unearthed a beautiful piece of history. It's compelling (and imperfect) in the way of his best work. Would I listen to it as an introduction to Neil Young for the uninitiated? No, "Harvest" definitely is the most accessible. "Homegrown" on the other hand is a few steps later, but for those who enjoy Neil Young's acoustic, country, and rock amalgamation, this one stands next to his best work.
---
About the author:
Jeff is a teacher in the Boston area. When not buried correcting papers, Jeff can be found plucking various stringed instruments and listening to all types of americana music.
---