For the most part, Bill Monroe invented the bluegrass genre over a period of years. The progressive/new grass/indie grass branch of the tree, though, can possibly be related to a single album, John Hartford's Aereo-Plain. Therefore it's fitting that so many of that strand's best known groups jumped in to contribute a cover of one of John's songs on the new On the Road: A Tribute to John Hartford. Even better, 100% of the proceeds go to MusiCares. The philanthropic division of the Grammy organization, MusiCares has helped an enormous percentage of the nation's musicians through rough patches.
The album is bookended by different versions of On the Road. Sam Bush starts things off with as pure a new grass version as you could hope to hear. Danny Barnes brings thing to a close with a more traditional arrangement that oozes the sound of fun that Hartford was known for having. In between is a wide range of interpretations that nonetheless manage to stay true to Hartford's spirit.
Highlights for me include Yonder Mountain String Band recreating John's yodel/scat way of vocally accompanying himself on Holding. Leftover Salmon delivers the bluegrass rap of The Category Stomp. Horseshoes & Hand Grenades replicate the lovely baritone delivery John had at his disposal on Let Him Go On Mama. John Carter Cash and Hartford's son, Jamie, do In Tall Buildings, accompanied by Norman Blake (who played on the original Aereo-Plain) and Jerry Douglas. Sydney Clapp's whispery vocalization of Tear Down the Grand Old Opry puts a spike of longing in when she sings "another good thing has done gone on."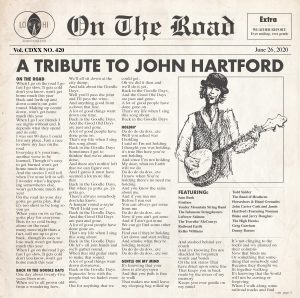 I had the pleasure of seeing John perform a number of times over the years, from festival main stages in the Rockies to a church auditorium in Hannibal, MO. Invariably I left grinning from ear to ear and shaking my head in wonderment. On the Road isn't a live record, but you can hear what made John so special, lovingly contributed by musicians who were among his biggest fans. You can find the album here. And in case you missed it at the beginning, 100% of the proceeds go to MusiCares.
---
About the author:
I've actually driven from Tehatchapee to Tonopah. And I've seen Dallas from a DC-9 at night.
---