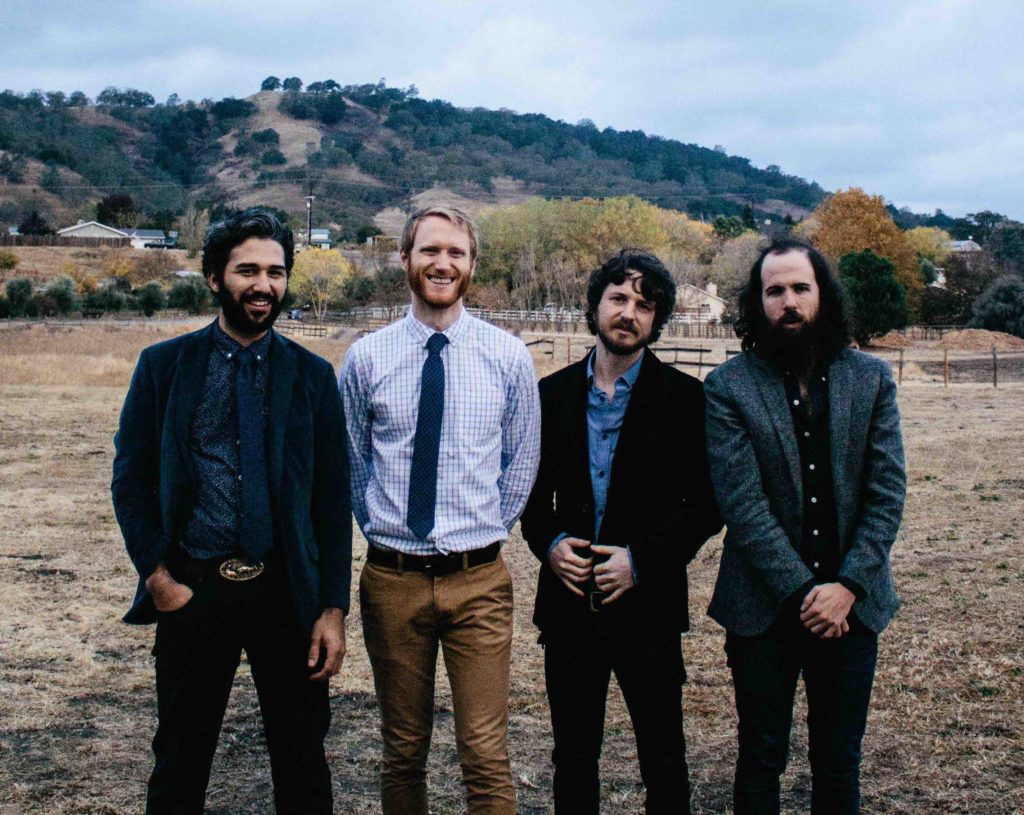 It's always a treat when a favorite artist surprises you with new music. All the better if it's for a good cause, but more on that in a bit.
Goodnight, Texas, the group anchored by songwriters Avi Vinocur and Patrick Dyer Wolf, follow up the July release of The Senseless Age with a rollicking new track titled "Someday, Somehow".   The song continues their evolution from an acoustic and rootsy heritage towards a more electrified and, dare I say funky, sound.
Their sharp wordplay, long a band forte, is as potent as ever. To wit:
Drive all night like a Yahrzeit candle
 Drinkin' coffee by the handle
 Though I've got moonlight to lose
 I gotta dot some Ps and Qs
 I won't get in particulars
 but it's something that I've gotta do
  
 Listen it ain't like it seems it is
 I got a reason for a trip like this
 Trust me when I say you needn't know
 I'll think about you daily though
 I've got a picture on the dash
 Of you, the dog, and Johnny Cash
 I can't explain it to you now
 But I'll be back someday, somehow  
What makes this song extra special is the album on which it is contained. Blanket the Homeless is a compilation that brings together some of San Francisco's most talented artists to raise money to fight homelessness in the city.
Proceeds from the project, spearheaded by producer Scott Mickelson and Blanket the Homeless organization co-founder Ken Newman, will benefit the St. Vincent de Paul Society of San Francisco and provide blankets and other critical supplies to San Francisco's homeless population.
In addition to Goodnight, Texas, the contributors include Fantastic Negrito, Tim Bluhm, the Stone Foxes and John Craigie (full list below). 15 songs worthy of your attention, 1 album worthy of your support.
1. The Stone Foxes – "Million Dollar Shoes"
2. Tim Bluhm – "Clean Me Up"
3. Fantastic Negrito – "Working Poor"
4. Mickelson – "Odd Man Out"
5. Goodnight, Texas – "Someday, Somehow"
6. John Craigie – "Your Sailor"
7. The Brothers Comatose – "Angeline"
8. King Dream – "Many Moons Ago"
9. Whiskerman – "U.S.M.E."
10. Tobias The Owl – "Out Of Place"
11. Marty O'Reilly & The Old Soul Orchestra – "Mad Tom of Bedlam"
12. Rainbow Girls – "American Dream"
13. The Coffis Brothers – "I Ain't Living In Your World"
14. Ken Newman – "We Should Do This Again"
15. Con Brio – "Body Language" (Live in Amsterdam)
---
About the author:
Mild-mannered corporate executive by day, excitable Twangville denizen by night.
---