The opening song on the Robbie Walden Band's latest album, When the Rooster Crows, is 50 Years Too Late.  It's appropriately named because the record is what it would have sounded like if Merle Haggard had done a concept album in the late sixties when The Beatles first popularized the idea.  Lyrically the project follows the trajectory of a few years in Walden's life.  Musically, a lot of the album is a real-deal Bakersfield sound that would have made Roy Nichols and Ralph Mooney proud.
Take Dark Days for example.  It's got a driving bass and drum rhythm with Telecaster licks as good as anything laid down by Redd Volkaert.  It's the first in a trio of numbers about a bad marriage.  The next one is Chain And Shackles, a slow, almost ponderous, perp walk of a song where our protagonist talks about his buddies trying to figure out bail while his wife is a jury by herself.  Finally, Thank God For You is another heavier, irony-laden suggestion that all that hate was a good thing.
A little later you realize our hero has finally gotten out of the marriage and is back in action.  On Take Me Back, John Coker and Dan Tyack trade smoking guitar and pedal steel licks in honky-tonk jam about the dating scene, as Walden sings, "I gave her my best Charlie Sheen."  Falling Again, In Love leads with a piano representing things getting better now that our guy is "happier than a tick on a fat dog".  That's How I Start My Day sort of finishes the story, rejoicing in the first kiss of the morning.  This is one of several songs on the record where some judicious horns really add a great texture.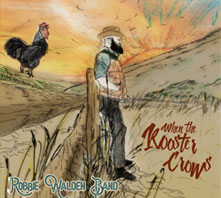 While I hear the Central Valley of California all over this album, Walden insists there's a lot of his home territory of eastern Washington and Idaho.  I suppose that's what gives it the originality that keeps When the Rooster Crows from being a Haggard tribute album.  Regardless, I think this is going to be one of my finds of the year.
---
About the author:
I've actually driven from Tehatchapee to Tonopah. And I've seen Dallas from a DC-9 at night.
---