With a resume that includes bass player, lead vocalist, multi-instrumentalist, songwriter, and producer, Ted Russell Kamp could be a contestant on The Most Interesting Man In the World.  Most of those talents are on display on his latest record, Walkin' Shoes.

The first cut, Home Away From Home, sets the pace properly with a walking, traveling beat and twangy guitar.  Noting "I see familiar faces everywhere I go", Kamp puts a positive spin on all those days on the road when you make your living as a musician.  There's that same snappy beat on Get Off the Grid that had me seeing visions of Merle Haggard, with it's lament about life in the connected age.  Less Thinkin', More Drinkin' adds some horns to give a zydeco flavor to an uptempo shuffle.
Slower numbers on the album are led by Highway Whisper.  With just Ted and his bass it's like southern rock folk music.  This Old Guitar is a country ballad full of reminisce about the singers best friend.  We Don't Have To Be Alone is also a slower ballad, but it's at a definite simmer.  Heart Under Pressure puts a southern California spin on a song that could have been in the Eagles playbook.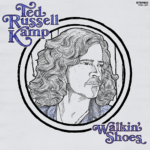 If you had to put a genre stamp on Walkin' Shoes, I suppose you'd choose country music.  But with everything from classic rock to folk making an appearance, there's going to be a song or two that will appeal to just about everyone.  Then the rest of the record serves to showcase the many facets to Ted Russell Kamp's musical talents.
---
About the author:
I've actually driven from Tehatchapee to Tonopah. And I've seen Dallas from a DC-9 at night.
---