If you're a fan of 70's country rock, you'll feel right at home with the latest release from Great American Taxi, Reckless Habits.  Vince Herman, the leader of Taxi, was also a founder of Leftover Salmon, and the jam band roots are noticeably.  But what really comes through is a homage to the early pioneers in Americana, alt country, and newgrass.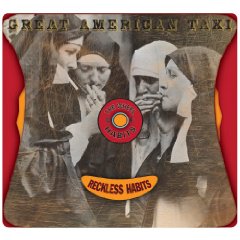 Reckless Habits comes out of the gate burning with a New Orleans-style, swampy. roots number, One Of These Days, that could have been a Tony Jo White composition, with horns.  Other songs that get that second line feeling going are New Millenium Blues where "mommy's got two jobs and daddy's got three", the John Hartford tune Got No Better, and a version of the Bill Monroe classic Big Sandy River.  The album finishes with the other half of the bookends, Parade, a cut that's basically the sound of a New Orleans parade band coming up the street and then moving on.
Another primary musical influence in Reckless Habits is clearly Gram Parsons.  From the title cut and it's story, "poor old Gram burned up in the desert", to Albuquerque, NM, there's a lot to love for fans of pedal steel, dualing lead guitars, and multi-part harmonies (think Allman Brothers).  In that same vein is American Beauty (guess who that's a shout-out to) and Fuzzy Little Hippy Girl about the summertime festival scene.
Finally, I have to mention the musical Easter eggs.  You know, those little surprises you find hidden in an album.  Sometimes they're from the songwriter, like the verse "wild horses singing rock and roll" about the friendship Parsons had with the Stones.  Other times it's more of a production gift.  Listen to Cold Lonely Time and remember the first time you heard the soaring female vocal moan/scream of Claire Tory in Great Gig in the Sky.  In some ways, that's what the whole album is about: a musical gift to today's listeners from a number of musicians who are no longer with us, but channeled through Great American Taxi.
---
About the author:
I've actually driven from Tehatchapee to Tonopah. And I've seen Dallas from a DC-9 at night.
---