I have a theory that no one doesn't like Chuck Berry.  Whether you're a post-millennial, world-beat fan, an EDM raver, or aging hippie still in love with art rock, when you hear the chords of Johnny B. Goode or Maybellene, a smile crosses your face and your foot starts tapping.  Berry tapped into something primordial with his mix of blues and rock, long before either of those was very well defined.  The driving roots rock you get on the newest album from Frenchie's Blues Destroyers, Love Is Blood, is very similar to that.
The Blues Destroyers consist of Frenchie Sciou on guitar and vocals, and Brother Pete Coatney on drums and percussion.  That's it.  They've stripped rock and roll down to its roots.  The album starts with the T Rex-inspired Little Bit Crazy.  Beautiful Mess also sports that classic rock sound, as does a faster tempo'd Bound For OKC.  In the middle of the record they go with a minor key to give the title track a swampy, voodoo sound.  Get Through To You and JuJu Boo Bunny feature the almost-third-band-member, Frenchie's fuzz pedal.
Just when you think things might be getting formulaic, Frenchie and Brother Pete put a little bit of country shuffle into Can't Stand Missing You.  It's not country be any means: more like a whisper in your ear.  The final cut, Behind the Wheel, is rock and roll you where you can two-step (at least, in some parts of the country).  It's about the blurry line between friends and bandmates when you're on the road, where they rejoice that "we take no prisoners behind the wheel."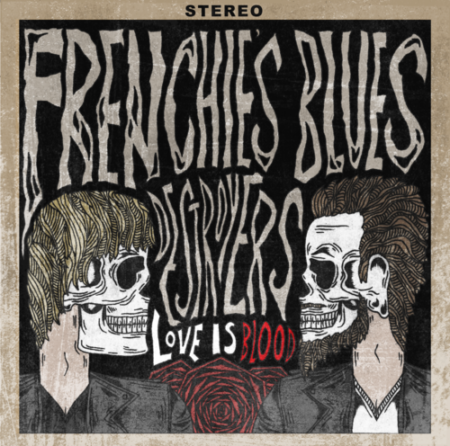 Love Is Blood is a fun album.  It's not subtle.  The guys have played with the likes of Shooter Jennings, Junior Brown, Billy Joe Shaver, and Jack Ingram, so they know how to get a crowd partying.  I'd advise you keep a few cuts of Love Is Blood on your playlist for this holiday season and you're bound to get your guests up and moving.
---
About the author:
I've actually driven from Tehatchapee to Tonopah. And I've seen Dallas from a DC-9 at night.
---