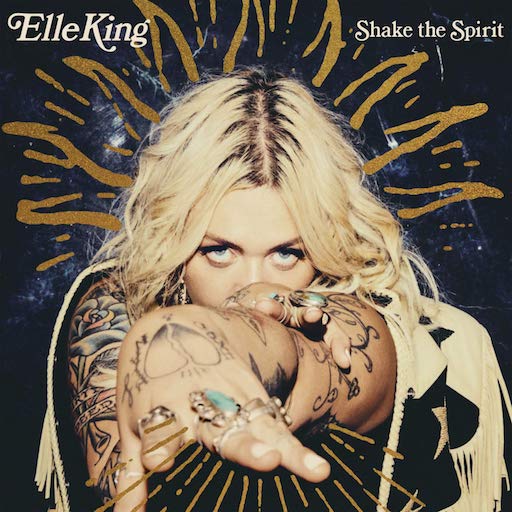 You picked Shake the Spirit by, Elle King, as your favorite new release for the week of October 19, 2018.
Poll Results
What is your favorite new release for week of October 12?
ELLE KING, Shake the Spirit (33%, 10 Votes)
GRETA VAN FLEET, Anthem of the Peaceful Army (23%, 7 Votes)
MARTHA SCANLAN, The River and The Light (13%, 4 Votes)
PETER BJORN & JOHN, Darker Days (10%, 3 Votes)
FIONA BOYES, Voodoo In The Shadows (10%, 3 Votes)
BECKY WARREN, Undesirable (7%, 2 Votes)
THE BROTHER BROTHERS, Some People I Know (3%, 1 Votes)
ARKELLS, Rally Cry (0%, 0 Votes)
Total Voters: 30
Loading ...
---
New Releases
Loading ...
Did we miss something? If you feel a new release is missing from our current poll, please let us know in the comments.
---
Readers' Tops Summer & Fall 2018
WILLIE NILE, Children of Paradise (196 votes)
MIA AND JONAH, Spin As One (68)
HYMN FOR HER, Pop-N-Downers (54)
SARAH BORGES & THE BROKEN SINGLES, Love's Middle Name (45)
TONY JOE WHITE, Bad Mouthin' (36)
LORI MCKENNA, The Tree (27)
WALTER SALAS-HUMARA, Walterio (23)
AARON LEE TASJAN, Karma For Cheap (21)
MANDY BARNETT, Strange Conversation (21)
KEVIN GORDON, Tilt and Shine (20)
LUCERO, Among the Ghosts (19)
AUSTIN LUCAS, Immortal Americans (19)
ELVIS COSTELLO & THE IMPOSTERS, Look Now (18)
THE JAYHAWKS, Back Roads And Abandoned Motels (13)
AMANDA SHIRES, To the Sunset (13)
MIKE FARRIS, Silver and Stone (13)
KINKY FRIEDMAN, Circus of Life (12)
MALCOLM HOLCOMBE, Come Hell or High Water (12)
AMY HELM, This Too Shall Light (12)
WILL HOGE, My American Dream (12)
THE BOTTLE ROCKETS, Bit Logic (11)
THE PUNCH BROTHERS, All Ashore (10)
DEVIL MAKES THREE, Chains Are Broken (10)
ELLE KING, Shake the Spirit (10)
ROBBIE FULKS AND LINDA GAIL LEWIS, Wild! Wild! Wild! (9)
Keep 'em coming. Your votes in our weekly Readers' Pick poll help create these rankings. Many thanks! Also, check out Twangville Daily, our daily Twangville playlist.
---
About the author:
Washington, D.C. area web designer by day. Music is my muse. I host Twangville's weekly Readers' Pick.
---