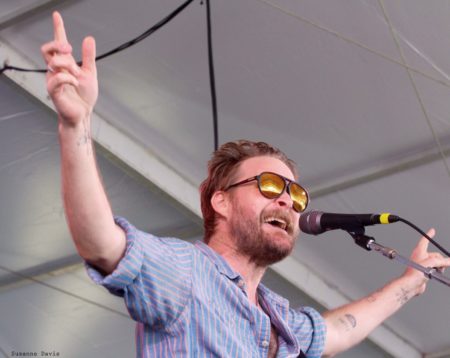 Ever had that moment when you discover a musical artist and you're just hooked? I've been listening to talented artists for a long time but when I come across someone new whose amazing music opens my eyes, I immediately go into a phase. When I started "studying" for Newport Folk Fest this year I found lots of musicians with an album or two. But Hiss Golden Messenger hooked me immediately after I watched a live performance of "Biloxi" from 2016's "Heart Like a Levee." Since we haven't reviewed the band on Twangville yet, this feature is a Twangville first.
Just a few notes of that chorus, and I knew I needed to get more of Hiss Golden Messenger. I soon discovered that I had plenty more to wade in deep to the band's catalog of 7 records in 8 years. I started with "Heart Like a Levee" and when I listened to the first three tracks ("Biloxi," "Tell Her I'm Just Dancing," and "Heart Like a Levee") and thought they were classics, I knew I had found something special. The band's music has an amazing groove, with a definite Americana spin. Incredible lyrics matched undeniable hooks and sonic textures.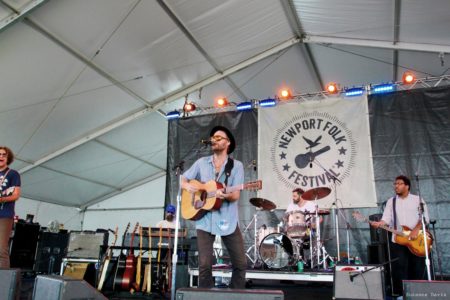 My whole family dove in headlong and explored Hiss Golden Messenger's varied catalog. I played "Heart Like a Levee" to no end on car trips, so much so that my 3 and 1 year old perked up as soon as they heard the opening chords. My 3-year-old son declared that "Heart Like a Levee" was his favorite song and often sang along to lyrics that I didn't know. My wife (and resident Twangville photographer) prefers "Say It Like You Mean It."
After that we dove into 2017's "Hallelujah Anyhow" and again the first three tracks had an amazing groove with interesting lyrics to match. "Jenny of the Roses," "Lost Out in the Darkness," and "Jaw" all had a meld of Americana and R&B. The piano of Phil Cook, bass of Scott Hirsch, and guitar of Ryan Gustafson is a great mixture. These two records are instant classics and definitely worth many listens.
Suffice it to say that I was super excited to see the band live at Newport Folk. My wife and I were treated to not only the main set at noon but then a small set with just M.C. Taylor and Phil Cook at the children's tent. The initial full band set included lots of new tunes. Hiss Golden Messenger is a prolific act who has managed to put out some amazingly affecting music. The band played favorites "Biloxi," "Lost in the Darkness," "Domino," and "Red Rose Nantahala."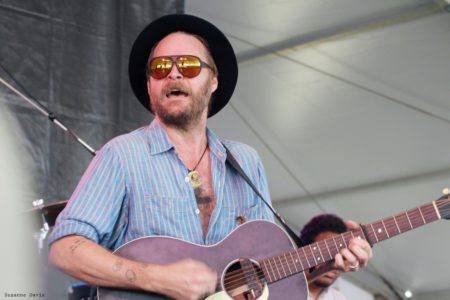 In the second set with just Phil Cook on electric guitar, M.C. Taylor was very engaging with his stories of his own children. It was another level of intimacy not only in the songs ("Biloxi" written for his son, "Happy Day (Sister My Sister)" for his daughter). He also discussed how he and Phil Cook both had children and how they influence their songs. He mentioned how he really wanted to play for families and children because that's really a lot about why Taylor makes music.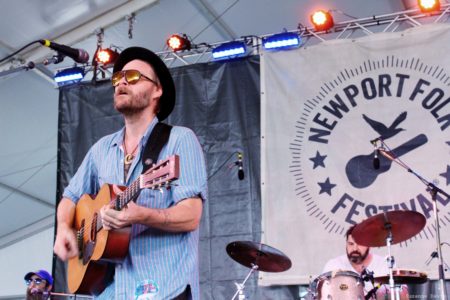 After experiencing my Hiss Golden Messenger phase and seeing the band at Newport, I can see that I'm honestly again re-engaged in music. When a band gets you to love music just a little bit more, you know they're something special. Hiss Golden Messenger is the first band in a while that reaches that level. They combine incredibly deep and meaningful lyrics with catchy hooks and grooves.
All photographs by Suzanne Davis McMahon.
---
About the author:
Jeff is a teacher in the Boston area. When not buried correcting papers, Jeff can be found plucking various stringed instruments and listening to all types of americana music.
---