It's fashionable these days to whine about how the youth of today don't do anything except play on their cellphones and can't interact with anyone except on Snapchat.  I'm fortunate enough to see and meet many young musicians that contradict that belief.  Christina Cavazos is one of them.  She was a finalist in the new talent competition at Old Settlers for a couple of years running.  She released her first EP when she was 16.  Her third EP recently came out.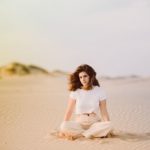 Mile Marker is a modern folk music record.  That doesn't really do it justice, though.  Christina can evoke a dreamy, pop style of vocals, like on California.  On Fire, she injects some pointed reality into the vocals and adds some nice, fuzzy guitar.  Get By has some old school blues influence.
No doubt Cavazos is still finding her musical style–you can't have everything figured out as a teenager.  But it's definitely not too early to jump on the bandwagon and see where it heads.  Here's a sample for your listening pleasure.
---
About the author:
I've actually driven from Tehatchapee to Tonopah. And I've seen Dallas from a DC-9 at night.
---