Spend enough time in the South in the summer and your definition of "clean" changes.  Whether it's the humidity coming off the big, muddy rivers, or the dust devils spawning out of the cotton fields and cattle ranches, a shower is just temptation for the grit to cling harder.  After a while, that dirt permeates your soul and even normal gets a wild-eyed look to it.  That part of the country has contributed more than its share of style to American roots music and it's all laid out to wallow in on the latest record from Texas duo The Wide Open, entitled Long Road Home.
 Female lead vocalist Season Ammons has a phenomenal range to her roots styling.  She coos out a country blues on Rainy Day Serenade and then lays out a smoky, torch-singer version on the jazzy Rainy Day Serenade Reprise.  She does a Stax style blues on the soulful Raining In Memphis, and then a couple of songs later captures pure lust in a bottle with the funky Better Than You, even adding a scat-singing vamp in the middle.
Male vocalist, guitarist, and harp-player-extrordinaire Allen Rayfield pulls his singing load, too.  Walton County Jail features him and his harmonica in an ode to being locked up and your family moving on.  Ol' Missouri (talking about the river, but pronounced mis-er-y) nods to that influence.  Then there's Rye Whiskey Blues, a lo-fi lament that "one drink is too many, but it's never enough."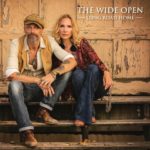 In addition to Ammons and Rayfield, they pulled in a variety of studio musicians who do an outstanding job of adding texture and aural highlights to a number of songs.  The sum of it all is Long Road Home does a better job of exploring American roots music than anything I've heard in a long time.  When you add Ammons sultry vocals on top of it, this is a record that sounds so sinful you have to look around when you're done listening to it.
---
About the author:
I've actually driven from Tehatchapee to Tonopah. And I've seen Dallas from a DC-9 at night.
---