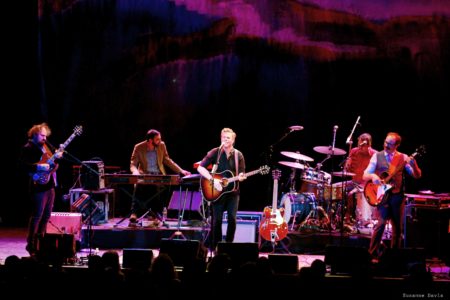 It's not easy to get an overnight sitter and get out to a show these days, but when we had the chance to see Josh Ritter play again we made the many arrangements for our two kids and made a night out of it. Both acts were amazing. The lion's share of the crowd were Josh Ritter fans. My wife and I had scoped out Good Old War they really wowed the crowd. Many of those in the audience had Good Old War CDs in hand after the intermission.
Good Old War is an acoustic trio and the three have a way with harmony. I'm sure they must work on it all the time, but their harmonies come off as honeyed and effortless. The band played "Part of Me," the title track from their new EP, and the tune sounded amazing even a bit more stripped down than the recorded version.
They also played songs from their back catalog (4 LPs) that are amazing sing-a-longs (if a bit less lyrically complex than Josh Ritter). "Amazing Eyes," "My Own Sinking Ship," and "Coney Island" had the crowd singing along before the tune was finished. Keith Goodwin opened the set with "You all ready to boogie?" and in his preppy clean cut way, he meant it. Dan Schwartz handled the guitar duties and had both a percussive acoustic style and even switched to an electric for a couple of tunes. The trio was much more powerful than you'd expect from three guys singing and playing acoustic instruments.
They had us going for Josh Ritter. Josh has released strikingly high quality albums throughout his career. The last two have leaned a bit more heavily on the downtempo side of things. But in concert, the more upbeat songs carried the day. Josh did not play much from his first three albums and I must say that I did miss some of those classic tunes.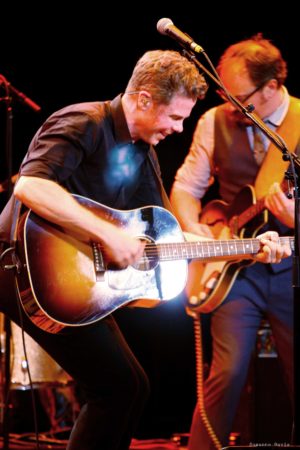 That said, he easily filled up the setlist with tunes from his last three records. I particularly enjoyed the treatment of his new LP, "The Gathering," standout track "Train Go By." This song is mesmerizing and sounded great in the hands of the Royal City Band.
"A Certain Light," "New Lover," and "Hopeful" were the softer tracks all from "A Beast in Its Tracks" that showed Josh can still hold it down with a spare arrangement. They harken back to Ritter's divorce and a more somber time.
"Showboat" and "Oh Lord (Part 3)" on the other hand featured the more upbeat feel of the new record. They were playful and gave the rhythm section and guitar a chance to stretch out a bit. They melded in nicely with the "Homecoming" and "Getting Ready to Get Down."
Josh and the band were all around one mic for several songs. This gave a new intimacy which is a hallmark of bluegrass shows. It really switched it up and gave the band a bit of variety.
Love to see that Josh is still restlessly seeking out new ways to compose and perform his amazing songs.
All photos by Suzanne Davis McMahon.
---
About the author:
Jeff is a teacher in the Boston area. When not buried correcting papers, Jeff can be found plucking various stringed instruments and listening to all types of americana music.
---