Like the bee that pollinates just about all the produce we eat, I love it when a musician works with a lot of different genres.  The epitome of that may just be Ryan Koening, who does everything from roots rock as a sideman to Pokey LaFarge, to blues with the Rum Drum Ramblers, to old timey cowboy with Southwest Watson Sweethearts.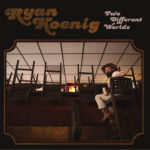 Koening is about to release a solo album, Two Different Worlds, and we're proud here at Twangville to be able to premiere one of the songs, Strugglin' With A Lot.  The album itself is kind of a shout-out to country music from a previous generation and I can hear influences from Doug Sahm, Tom T. Hall, and Buck Owens.  Strugglin' is a classic tale of a working farm woman and the struggles she endures.  It also has a classic country two-step sound.  You can just imagine couples twirling around on the dance floor while the lyrics tell you this woman is going to persevere and nothing will bring her down.
---
About the author:
I've actually driven from Tehatchapee to Tonopah. And I've seen Dallas from a DC-9 at night.
---