For avid fans of a particular musician or band, it's usually the case that through interviews and side projects you can hear the influences that set them down the path to create their own unique sound.  That's hard to do for a particular branch of the musical genre tree, however.  There are just too many contributors for anyone to get a handle on the essentials.  With the release of Son Volt's new album, Notes Of Blue, along with his previous album Honky Tonk, the various Jeff Tweedy projects, and the re-release of the Brooklyn Side from close sideman Brian Henneman, you can now really explore what burst on the music scene in the early 90's as alt-country.
Son Volt frontman Jay Farrar names 3 musicians in particular as influences on Notes Of Blue; Nick Drake, Skip James, and Mississippi Fred McDowell.  Although marginally related on the surface, they all used a lot of different tunings, and James and McDowell specifically favored a simplified chord progression.  Midnight is straightforward blue-rock piece with a Link Wray sound to the guitar.  It almost feels ponderous, but stops just short at relentless.  Cherokee Street offers a similar roots flavor to rock, and Sinking Down would sound at much at home with the Black Keys at it would with Cream or Deep Purple (early metal fans of Skip James).
Over on the acoustic side, The Storm is a very Delta country blues flavored number.  Cairo And Southern adds some haunting key changes that owe much to Nick Drake.  Threads And Steel is perhaps the ultimate blues tune here with a talking verse delivery with a colorful description of the devil, "he's got a go-to-hell hat and shoes that click when he walks."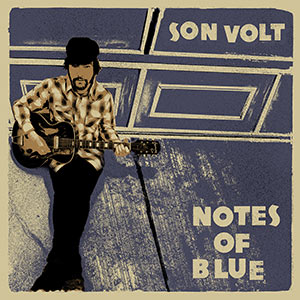 Notes Of Blue probably isn't what you'd expect from Son Volt after their last two releases, American Central Dust and Honky Tonk.  Farrar and his band are an extraordinary set of musicians, though, and show they can span a wide set of musical genres while still delivering an album that's inspirational and informational for fans while being merely a kick-butt record for everyone else.
---
About the author:
I've actually driven from Tehatchapee to Tonopah. And I've seen Dallas from a DC-9 at night.
---