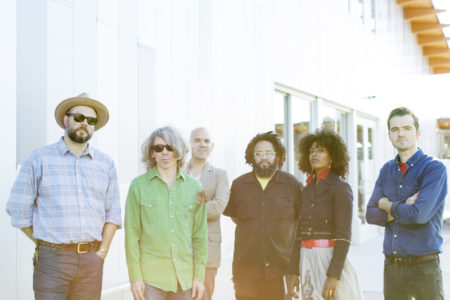 It has been seven years since we heard from Romantica. Of course we have heard from front man Ben Kyle in the meantime. He has done two acclaimed albums. One was a duet with Carrie Rodriguez and the other was a solo project. The wait for new material from Romantica was well worth it. The bands new release, Shadowlands, has a Lyrical and aural ambiance that is mesmerizing from beginning to end. Lyrically the songs are engaging, reflective and full of depth. It is clear that the last seven years have been a bumpy road for Kyle. However, he has emerged with a perspective that is honest and wise in its observations. The perspective is evident on "Harder to Hear" which is a poignant song that exposes the superfluous noise in society, "Its getting harder to hear my heart these days. Harder to here my heart there is much culture in the way". In the same song he identifies other pieces of our being that are getting drowned out. "harder to hear the truth there is so much money in the way…harder to hear from God there is so much religion in the way…harder to hear the hope there is so much journalism in the way." In all the songs the atmosphere is supported by engaging melodies and a wistful pedal steel guitar as a foundation. All of the songs have engaging melodies. The coolest of which may be the Honky Tonk Country tribute to Gram Parsons, "Cecil Ingram Conor" (which was Gram's given name).
The band sequestered itself in a farmhouse outside if its home in Minneapolis to record the album. This retreat obviously provided the needed focus and creative space to create songs that sound so cohesive that each song flows from the one before. It is obvious a lot of thought went into the order of the songs. The echoing vocals make thoughtful lyrics resonate. Although the songs are a mixture Folk and Country in structure, they are full of Soul. Such a delicate balance was probably hard to achieve, but it is so comfortable and easy to listen to. "Shadowlands" is the product of a successful reunion, and is an album that begs to be played on repeat.
---
About the author:
Chip and his family live in Birmingham, AL. Roll Tide!
---