There's an old saying about blues musicians who had no formal training and yet could unload a gut-wrenching, soulful composition about life or love or maybe just an old dirt road: "it in him, and it got to get out."  There's a country outlaw version of that in the first full-length album from California native AJ Hobbs, Too Much Is Never Enough.  Easily half the songs on the record could be the theme song for many a country musician, famous or not, real or imagined.
The first cut, and the album's title track, is an autobiographically-tinged tale of alcoholism where "one is to much, and too much is never enough."  The Loser ruminates on leaving a good job and stable life to take to the road to play music.  Tomorrow I'll Be Hurtin' goes further exploring an impoverished life on road with the realization that "tomorrow I'll be hurtin', but tonight I'll be the star."  To add some frosting to the cake, there's also a nice over of Haggard's Tonight the Bottle Let Me Down.
In addition to the rode-hard-and-put-away-wet numbers, Hobbs has several uptempo dance-worthy compositions on the record.  Shit Just Got Real has a Johnny Paycheck/Todd Snider finger snapping feel.  Are You Going To Tennessee is a Bob Wills style swing number.  Daddy Loved the Lord tells of realizing you're not you're parents priority, but cushions it in some wry observations about Sunday morning with "Jim and Tammy Faye clogging up the stereo."  Take It Slow is a fun honky-tonker featuring Dominique Pruitt on vocals.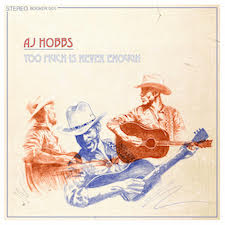 Produced by Ted Russell Kamp, Too Much Is Never Enough has a who's who of studio musicians that complement Hobbs guitar and Kamp's bass.  That along with the well-crafted stories in the songs themselves add up to an album that's instantly likable.  And with the country outlaw subject matter, you're sure to hear some of this on your favorite  music outlets this spring.
---
About the author:
I've actually driven from Tehatchapee to Tonopah. And I've seen Dallas from a DC-9 at night.
---