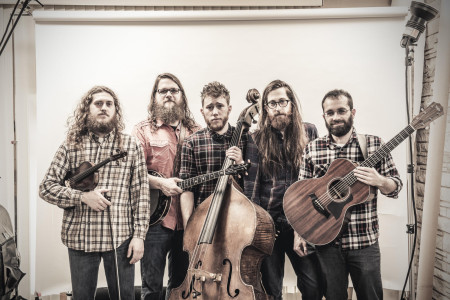 The moments that surprise us are the ones that stay with us the longest. In my many years of going to see live music the sundry collection of those moments are etched forever in my memory. I encountered an event of that magnitude at the Evening Muse in Charlotte a couple of weeks ago. I wasn't even in town for fun, I was killing ghosts from my past. However, my buddy and I decided fun was in order. (Fortunately, I was with my friend who tends to stumble into fun or create it if he can't.) So I read an interesting description of a band playing at a small bar; that I had enjoyed during my time of exile in the Queen City. It was with this cavalier mentality I encountered The boys of Old Salt Union.
The energy and pure joy they put into that show awoke in me a passion for music that has been recently dampened by work and life stress. These guys write crowd pleasing songs, and play them with a humor and energy that literally kidnaps the audience. Every song has a story, and sometimes even choreography. If anyone on stage gets too serious, the other members of the band take care of that. To make sure everyone was in on the fun they had the audience sing along on a few covers, of a type certainly not associated with Bluegrass. The best of these was the Men at Work classic "Land Down Under". Suffice it to say, if you haven't done Bluegrass on vegemite then you haven't done Bluegrass. Not lost in all of this, is the fact that Old Salt Union is a group of craftsmen that create original interpretations that pay homage to the traditions of the genre. Then at the end of the night in what was a sort of whiskey soaked altar call, they unplugged came down into the audience and we all sang together the classic tune, "The Weight" by the Band. It was a spiritual moment worthy of any hymnbook.
The Belleville, IL based band is soon releasing their third project, an EP titled "Cut and Run". I have had the pleasure of listening to a copy and it truly captures all of their sides, and reflects how much they love the genre. Bluegrass bands often split into one of two camps; "The New" or "The Traditional". While they lean toward the traditional, they are clearly blazing their own trail through both camps. They have recently toured with the Travelin' McCourys. In talking to them after the show, they were in awe of the fact and felt unworthy. They are wrong. They deserve a seat at the table.
Old Salt Union is:
John Brighton – violin, mandolin, vocals
Dustin Eiskant – guitar, ukulele, vocals
Jesse Farrar – bass, guitar, vocals
Ryan Murphey – banjo, vocals
Justin Wallace – mandolin, guitar, vocals
---
About the author:
Chip and his family live in Birmingham, AL. Roll Tide!
---