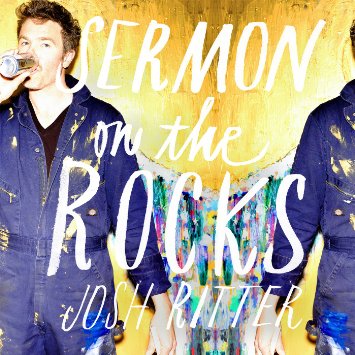 Jeff and I were both arguing over who got to review this album so we decided to do a "his" and "her" take. Josh Ritter is a household favorite and Sermon on the Rocks has been playing on repeat. Here are our thoughts.
HER TAKE
Phew, happy Josh is back. 2013's post-divorce album The Beast in its Tracks featured songs with titles like "Nightmares" and lyrics such as "I hope you've got a lover now, I hope you've got somebody who can give you what you need like I couldn't seem to do/ But if you're sad and lonely and you've got nobody true, I'd be lying if I said that didn't make me happy too." Don't get me wrong, it's my favorite album of his but it certainly wasn't the jubilant Josh that we're all used to.
With Sermon on the Rocks, it's clear that Josh is in a completely different place (a partner and adorable daughter probably helps) and his songs reflect that. "Young Moses" and "Cumberland" have an uplifting beat that reflect the album being recorded in New Orleans. "Where the Night Goes" sounds Springsteen-influenced and is definitely a standout. In addition, "Getting Ready to Get Down" does exactly what it says (check out the music video which literally features a guy dancing the whole time!). Can't wait to see Josh and the band perform these songs live- he's the most joyful performer I've ever seen. Welcome back, Josh!
HIS TAKE
Since he started back in the late 90s, Josh Ritter has always had a sensibility far beyond his years. He's managed incredible songcraft across genres. From his early folk, to Americana, and now to rock. Sermon on the Rocks sounds like Josh has moved past his recent divorce and he sounds like the song "Homecoming." He's come  again with feel good songs. They take the old happy folks songs, push them through Josh's mature lens, and man are they danceable and singable. Think Springsteen's feel good "Born to Run" in a modern Americana style.
Take the epic beginning of "Where the Night" goes that segues into subtle honky tonk piano at the chord changes. Ritter seems to have tapped into the innocence of his early years. He brings together teenage themes and when he says "Come on in it's so good to see you / It's been so long / I know . . . Let's see where the night takes us" you get the sense that he's back to where he wanted to be.
"Cumberland" keeps the upbeat feel and seems like a high-speed attempt to encourage people to open their minds up to the country. It feels like New Orleans country style. Front porch, foot tapping, pick up an instrument and join in.
But the truly epic Springsteen-shuffle and driving beat of "Homecoming" is a true grower. The piano intro sets the song up for the upbeat dance sound that I've never heard from Ritter.
Josh has earned my trust throughout his career. The first few spins of this record were a bit confusing. But the first three epic tracks emerged and I have no doubt I'll continue to unearth more audio gold with more listens.
---
About the author:
Suzanne started her love affair with photography at age 15. When she's not snapping photos, she is working as a Clinical Social Worker just outside of Boston. Suzanne also enjoys attending concerts and singing. Check out more of her photos at facebook.com/suzannedavisphotography
---