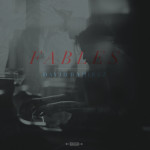 With raw emotion, David Ramirez delivers a collection of songs that shows the uneasy coexistence of a person's true nature and best intentions. Each song on "Fables" is a candid vignette that demonstrates that the line between the two is unclear without honest examination. Relationships are explored with vocals and melodies that maintain harmony with the emotions of each particular song. The arrangements were well crafted by producer and songwriter Noah Gunderson in a way that allows what are often dark truths to be told in a style that prevents the songs from feeling gloomy. The low-key pedal steel, played by virtuoso Greg Leisz, lays the base on which the atmosphere of the album is built.
"Harder to lie" is the basis for the both title of the album and its theme. The song portrays how words are useful for persuasion, but ultimately fall short when trying to hide the truth. On it Ramirez confesses, "If you're asking me now to tell you the truth it's getting harder and harder to lie to you". On the other hand, the up-tempo song, "That Ain't Love", shows that fear of being wounded can keep you from being able to establish relationships. When we read Fables as children, there is always a moral at the end of the story. Similarly David Ramirez's "Fables" leaves us with truth that is less tidy than a Children's book. A choice to avoid the risk of being hurt is just a choice to be dishonest.
---
About the author:
Chip and his family live in Birmingham, AL. Roll Tide!
---