Fiddle Tune X is for bluegrass fans with attention deficit problems.  The new album from Billy Strings and Don Julin nearly captures an entire bluegrass festival in 59 minutes.  The Michigan based duo, with just a guitar, a mandolin, and their vocals, cover ground from speed-picking, self-written tunes all the way to slow gospel harmonies.  And they do it all in an old school format.  There's a mix of live and studio material, but it's all recorded with a single microphone where solos and accompaniment are managed through nothing more than distance from the mic.
On the whole, I think I like the live tunes a little more than the studio numbers.  There's not an ounce of sterility to these live recordings.  One of my favorite Jimmie Rogers songs, Miss the Mississippi And You, epitomizes this with the recording haven been done at a house concert and in a couple of quiet parts you can hear the NYC traffic noises from the open window.  I Ain't Gonna Work Tomorrow, the A.P. Carter classic, was taped at their usual Thursday night gig in Traverse City.  Album opener Beaumont Rag was from a show in an old Elks Club.  The beauty to the single mic is that you get truly get the ambience of the venue–short of an obscene amount of ProTools work there's just no way to mix it out of the final product.
What the studio recordings lack in ambience they make up for in showcasing Strings and Julin's talents, particular on guitar and mandolin respectively.  I Am A Pilgrim showcases the guitar, with some string stretching that leaves me no pause to believe the story about 3 strings being broken in a single song performance.  The Bill Monroe number, Lonesome Moonlight Waltz, gives Julin the chance to loose the dogs on mandolin.  Poor Ellen Smith caps this portion of the CD showcasing some vocals in a sweet murder ballad.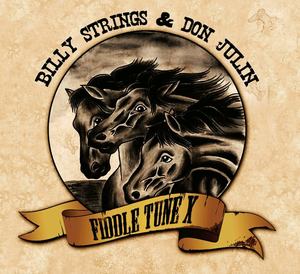 My wisecrack about attention spans aside, Fiddle Tune X is a bluegrass showcase.  Strings and Julin bring an enthusiasm to their craft that pulls together a broad range of rootsy Appalachian music into a fun journey through the bluegrass genre.
---
About the author:
I've actually driven from Tehatchapee to Tonopah. And I've seen Dallas from a DC-9 at night.
---