ALBUMS OF THE MONTH
You've Got the Wrong Man, by Joe Fletcher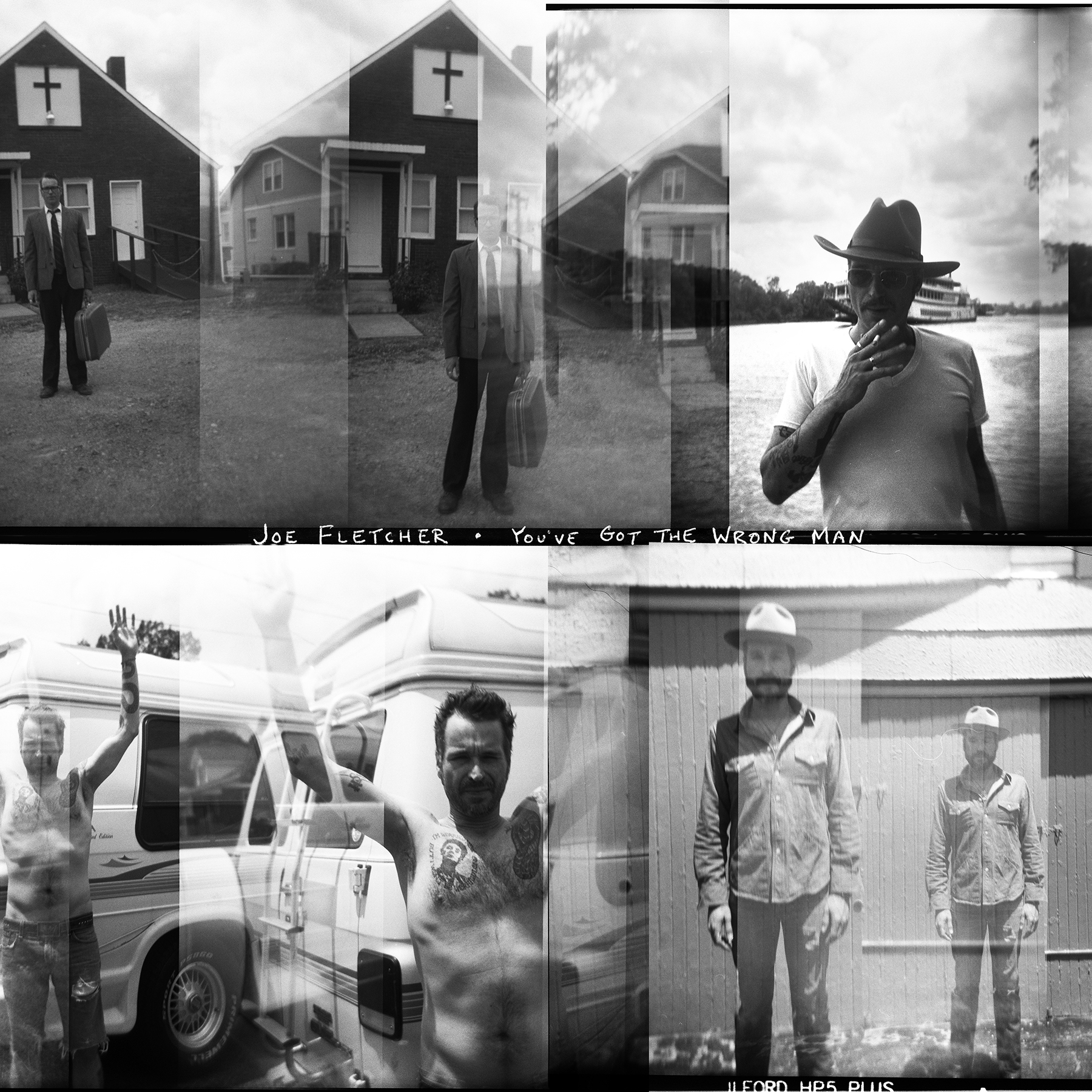 Singer-songwriter Joe Fletcher drew inspiration for You've Got the Wrong Man from the field recordings of the early 20th century. The process, most notably used by John Lomax during his musical exploration of the Southern US, places particular emphasis on the raw emotion and storytelling nature of folk and blues music of that period.
The constantly-touring Fletcher dusted off his four-track recorder and, guitar in hand, began recording songs as he traveled. Now it's one thing to replicate the recording technique, it's quite another to capture the essence of the approach. Fletcher hits the mark on both fronts.
The album opens with the ambling "Florence, Alabama." Fletcher picks at his acoustic guitar as he matter-of-factly describes the failed romance of a soldier and a bartender. "You're the prettiest bartender in the last bar in the South and I thought you were an angel until you opened your mouth," he wryly croons.
The album continues with an imagined tale of spending time with Hank Williams, a song that was sparked by a trip that Fletcher made to the Hank Williams museum. "I ordered up two beers, said 'Hank, what are you drinkin'?" sings Fletcher against the lonely backdrop of his electric guitar. Williams responds in kind, "Joe, I think I like the way you're thinkin', when I stand still sometimes I swear I'm sinking, I think tonight I'll drink whatever it is you're drinkin."
Fletcher turns to his acoustic guitar for the long-time live show staple "I Never." It is a colorful sea-faring tale with a great sing-along chorus, "I'd a never gotten on this ship if I had known that it was gonna take me home, I was never meant for life on land and I can't make it on my own."
The album concludes with a moving tribute to Dave Lamb of Brown Bird, who succumbed to leukemia earlier this. Fletcher invited a veritable who's who of like-minded artists – from Deer Tick's John MacCauley to Patrick Sweany to JP Harris and others — to perform Lamb's "Mabel Gray."
Audio Download: Joe Fletcher, "Florence, Alabama"

Audio clip: Adobe Flash Player (version 9 or above) is required to play this audio clip. Download the latest version here. You also need to have JavaScript enabled in your browser.
---
THE PLAYLIST
---
Good and Ready, Anthony D'Amato (from the New West Records release The Shipwreck from the Shore)
There's long been something magical about Anthony D'Amato's songwriting. He writes with a poetic style, choosing his words carefully to tell stories that are rich with imagery. Let's call them sophisticated folk songs.
For his New West Records debut, D'Amato headed to Maine farmhouse to record his work with producer Sam Kassirer, who has done wonderful work with other Twangville faves such as Josh Ritter and Lake Street Dive.
Working with Kassirer, D'Amato conjured up a more majestic sound with lush arrangements. Depending on the song, you'll hear varieties of strings and horns along with some wonderful choral harmonies. From the percussive glory of "Back Back Back" to the subtle beauty of "Ludlow," the results are exquisite.
---
Downbound Train, Joe Pug (from the Lightning Rod Records release Dead Man's Town: A Tribute to Born in the U.S.A.)
Bruce Springsteen's classic 1984 album gets the tribute treatment from some of Americana's finest artists. Blitzen Trapper serve up a bluesy take on "Working on the Highway" while Trampled by Turtles shine on a bluegrass performance of "I'm Goin' Down."
Leave it to Joe Pug and Jason Isbell to highlight the darker side of an album that is so often noted for its upbeat rock anthems. Isbell's somber "Born in the U.S.A," punctuated by Amanda Shire's haunting fiddle, speaks to the pains of a soldier returning home from war. Pug's stark and evocative "Downbound Train" vividly captures the anguish of a character who is brokenhearted and broken.
---
Burning Pictures, Justin Townes Earle (from the Vagrant Records release Single Mothers)
Justin Townes Earle continues to evolve his sound. His songs are still rooted in, well, roots but they now have a mighty tasty injection of Southern soul.
Lyrically, he still mines heartaches and break-ups with skillful precision. "I asked my baby if she loved me, she said, 'Ask me later,'" he sings on "Wanna Be a Stranger." He looks to his mother for comfort after a failed relationship on "Picture in a Drawer." "Mama she's gone, just a picture in a drawer," he intones.
Lest anyone think that this is a mellow affair, Earle and crew crank up the guitars and tempo on songs like "My Baby Drives" and "Burning Pictures." The latter is a personal favorite with Earle cautioning a friend on his dating habits, "Summer comes you'll have a new love, but mark my words come winter, you'll be starting fires and burning pictures."
---
Young Women and Old Guitars, J.P. Harris and the Tough Choices (from the Cow Island Records release Home Is Where the Hurt Is)
One need look no further than Harris's web site to figure out what type of music he prefers – www.ilovehonkytonk.com. Whether he's singing songs about drivin' trucks or drinking away a failed romance, his songs ring out with a whiskey-soaked authenticity. His voice recalls Merle Haggard with all the requisite grit and attitude. As if that weren't enough, Harris recorded this album in Ronnie Milsap's old studio. Home Is Where the Hurt Is does the country legends proud.
---
Goshen '97, Strand of Oaks (from the Dead Oceans Records release Heal)
There are some albums that are rooted in personal discovery and dripping with emotion. Put this one on that list. Timothy Showalter – aka Strand of Oaks – started his career with a more rootsy tone. Over the past several years, however, he has reflected on his life and used it as inspiration for a new sound. Acoustic guitars were traded for electric guitars giving an extra edge to his songwriting.
This song finds Showalter reflecting on his formative teenage years. "I was lonely but I was having fun," he sings before declaring, "I don't want to start all over again."
Later on the album he pays tribute to the late musician Jason Molina. "I got your sweet tunes to play," he sings against a wash of guitars.
---
About the author:
Mild-mannered corporate executive by day, excitable Twangville denizen by night.
---