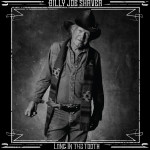 Billy Joe Shaver is back at 74 with his first album in seven years. Shaver reportedly feels that "Long in the Tooth" is his best album. It is a tall claim considering his voluminous discography, but it is definitely in the upper echelon. Since his last album, Shaver has shown he is not ready to remove the outlaw from Outlaw Country. Four years ago he was acquitted for shooting a man in self-defense outside of a Waco bar. When asked by the prosecutor why he didn't try to get away he said, "If I was a chicken shit I would have left." Then later he added, ""Hopefully things will work out where we become friends enough so that he gives me back my bullet."
Shaver references aging from a few different perspectives on the album. On the one hand, he shows an air of defiance. Like the opener "Hard to be an Outlaw (who ain't wanted anymore)", which is a superb duet with Willie Nelson. On that song the two of them declare that "Someday we might end up in a junkyard on the side, but until that day you can bet your ass we're going to whip that ride." He sings a similar mantra on the tile cut, which has a cool, trippy vibe to it. On the other hand, Shaver uses his life experience to add perspective about life's issues and realities. On songs like "The Git Go" and "Checkers and Chess", there is none of the melodrama or class bashing that you will often hear from young idealistic singers. He is not trying to change the world, opting instead to point out that the world hasn't changed.
"Long in the Tooth" empties the Outlaw's saddlebag. There is the proverbial mixture of Country and Rock. However, he also takes us to the Honky Tonk and tweaks the listener to make us laugh. "Last Call for Alcohol" is a perfect example quintessential Shaver wit. "Music City USA" is a compelling story song and an instant classic. Shaver is joined on this album not only by Willie Nelson, but also by Tony Joe White, Leon Russell and Shawn Camp.
"Long in the Tooth" is an album that Shaver is obviously proud of and I am quite sure he gives a wink and a nod to Eddy, his late son and long-time collaborator.
---
About the author:
Chip and his family live in Birmingham, AL. Roll Tide!
---