"All I want to do is sing a few songs of ache and love and a fast one for the youngsters that I know," Bob Walkenhorst aptly sings on "Broken Radio" from the recently released No Abandon. Despite these humble intentions, however, Walkenhorst and collaborator Jeff Porter have crafted an album rich in grace and maturity.
Each song on No Abandon overflows with a refreshing sincerity, both musical and lyrical. "Stay Ahead of the Wolves" finds the duo reflecting on the lessons that they've learned in their lives. "How do you measure a life, is it by friends, family ties, or the work that you do every day?" asks Porter, "Or by the stranger whose path, crossing with yours found you left something shining behind in your wake?" At times it is unclear for whom the message is intended, the listener or the singer, a point that makes the song all that much more personal.
Walkenhorst demonstrates his storytelling prowess with "Overland Hill," a first-person tale about falling in love with a free spirit. "When she ran into me in a stretch of bum luck, it was more like dumb luck on my part when I jimmied the lock and broke into her heart." It's the kind of tale that never works out in the end, with Walkenhorst shouldering the blame because he's "never been one to leave well enough alone."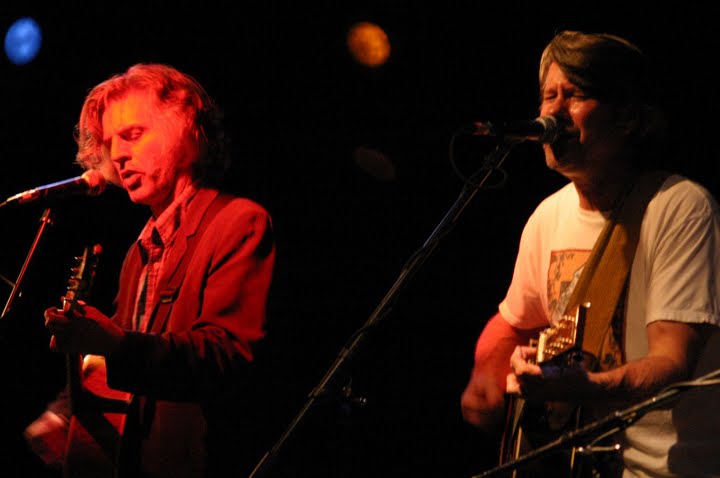 The musical riches abound. "Silver Lake" reminds me of Van Gogh's "Starry Starry Night" with Walkenhorst's near-whispered vocals set against a piano accompaniment that mixes resignation with restlessness. Meanwhile, the ambling "Broken Radio" strikes at the heart of Twangville with a country sound more authentic than most of what comes out of Nashville these days.
The album's masterpiece, however, is "Ridiculously Beautiful." A love song simple in melody yet sophisticated in lyric, it more than lives up to its title. "'Cause some days are a comedy, others are a crime, but most are masterpieces of a ludicrous design. Ridiculously beautiful, absurdly rich and dense, I'm delirious with fever, it's finally making sense."
Audio Download: Bob Walkenhorst & Jeff Porter, "Ridiculously Beautiful"

Audio clip: Adobe Flash Player (version 9 or above) is required to play this audio clip. Download the latest version here. You also need to have JavaScript enabled in your browser.
Walkenhorst and Porter perform a regular Wednesday night gig in Kansas City. An archive of these shows (with excellent sound quality) is available here.
Performance photo courtesy of Jim Klasinski.

---
About the author:
Mild-mannered corporate executive by day, excitable Twangville denizen by night.
---