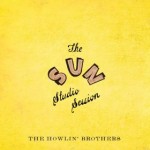 The Howlin' Brothers are a three piece acoustic band. I hesitate to call them a "String" band, because they don't fit the stereotype. While they do play traditional music, their version has many facets. Beyond traditional and Bluegrass, they also employee Blues, Country and you may even hear a little Bourbon Street. Their music can be straightforward at times, employing one style, but that is atypical. The production of Brendan Benson, created a fusion of sounds on the much acclaimed "Howl".
As a result of their recent attention, The Howlin' Brothers get to show their talents in a new and very cool setting. They were asked to be the guest band on an episode of the "The Sun Studio Sessions", a show that runs on select PBS stations around the country. It has to be a little intimidating to enter the same recording studio that launched Johnny Cash, Elvis, Carl Perkins and Jerry Lee Lewis, just to name a few of the heavyweights that got their start at Sun Records.
This is the house that Sam Phillips built, and it has changed little over the years. The studio is the same sweaty room with no air conditioning. I bet that sweat conjures up some powerful ghosts. In their session, the Howlin Brothers' they add a slight rockabilly twist their their normal style. One wonders if they planned it that way, or if the magic of their surroundings took over. It really doesn't matter, whatever their motivation, the result was a session that showcased a talented band that treated their surroundings with an appropriate reverence. I think Sam Phillips would have given The Howlin' Brothers a contract and a Cadillac.
---
About the author:
Chip and his family live in Birmingham, AL. Roll Tide!
---