I 'm usually not a fan of re-releases. My general view is that if I bought the album once, why should I buy it again?
Well, I'd make an exception for Shout Factory's new collection The Warner Bros. Years, which brings together Steve Earle's first three releases for Warner Brothers Records. This trio of albums represent a creative high water mark for Earle.
First up is 1995's Train a Comin', recorded shortly after Earle was released from prison where he served time for drug charges. The album is an acoustic affair that mixes originals like the wonderful ballads "Sometimes She Forgets" and "Goodbye" alongside choice covers like the Beatles' "I'm Looking Through You" and Townes Van Zandt's "Tecumseh Valley."
Earle plugged in the electric guitar on 1996's I Feel Alright. He tackles his drug addiction head-on with songs like "CCKMP" (Cocaine Cannot Kill My Pain) and "South Nashville Blues" while defiantly proclaiming his survival and return on the title track. "Some of you would live through me, lock me up and throw away the key," he declares before concluding, "be careful what you wish for friend because I've been to hell and now I'm back again."
1997's El Corazon hits with equal force. The guitars roar on "NYC" and "Here I Am" (the latter featuring a young Justin Earle on guitar) while Earle makes a powerful political statement with the folk ballad "Christmas in Washington." The album also features a fine collaboration with the Del McCoury Band on the Earle-penned "I Still Carry You Around."
So what's so special about this collection? It's the incredible bonus items.
First is a cd containing Earle's first live post-prison performance. The previously unreleased concert features 14 acoustic gems recorded at Nashville's Polk Theater on 1 December 1995. Most of the tracks destined for Train a Comin' make an appearance here, as do Earle classics like "The Devil's Right Hand" and "Copperhead Road. Throw in guest appearances by Emmylou Harris and Bill Monroe and you've got a special concert experience.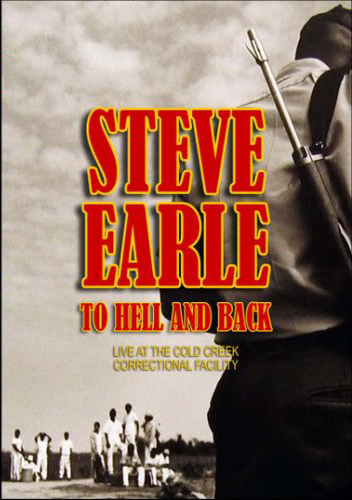 Then there's To Hell and Back, the long lost MTV special that chronicles Earle's return to the Cold Creek Correctional Facility in Tennessee where he did his time. The performance was court-ordered as part of his release on probation. Ostensibly produced by MTV as an anti-drug special, the film is interspersed with Earle and actual inmates talking about their prison experiences and the situations that led them there. It is Earle, though, who makes the biggest statement with a concert that pulls no punches.
Taking a cue from Cash at Folsom Prison, Earle's set list is every bit as tough as the venue. He kicks things off with a potent version of "Feel Alright." Subsequent songs like "The Devil's Right Hand," "Copperhead Road" and "South Nashville Blues" undoubtedly chronicle the real-life experiences of many in the room. Earle also delivers his powerful anti-death penalty song "Ellis Unit One."
"Walk slow, drink lots of water, sleep as much as you can and do your own time, you know what I'm saying," he remarks before closing with Bob Dylan's "It Takes a Lot to Laugh, It Takes a Train to Cry." It is a fine finish to a rock solid performance.
Here are "Feel Alright" and "Hard-Core Troubadour" from the Cold Creek performance, courtesy of our friends at Shout! Factory.
---
About the author:
Mild-mannered corporate executive by day, excitable Twangville denizen by night.
---