Love In the Wind, the opening cut from Marshall Chapman's latest release, Blaze Of Glory, might be one of the best rock and roll songs ever written.  I know, that's pretty extreme hyperbole.  Maybe I'm just under the influence of a sunny, summer afternoon.  But damn, it's got great garage surf rock guitar licks.  It's got this fat bass guitar part that just floods the room.  It's got a Bo Diddley beat.  It's easy to sing along with it, but there's a philosophical undercurrent to the lyrics.  It really is a complete package, and practically compels you to crank the volume when it comes around on the music player.  It's so easy to imagine practically any band being able to cover the song, but still put their spin on it.
Blaze Of Glory is not a one trick pony, though.  After the opener and it's rock and roll cousin second song, I Don't Want Nobody, the line-up jumps to a bluesy Hoagy Carmichael number, Nearness Of You.  And it just fits.  A little further down the track list is Dreams & Memories, a kind of Everly Brothers-inspired tune, but with much darker lyrics.  From there she covers the old Delmore Brothers composition Blues Stay Away From Me with a New Orleans blues beat.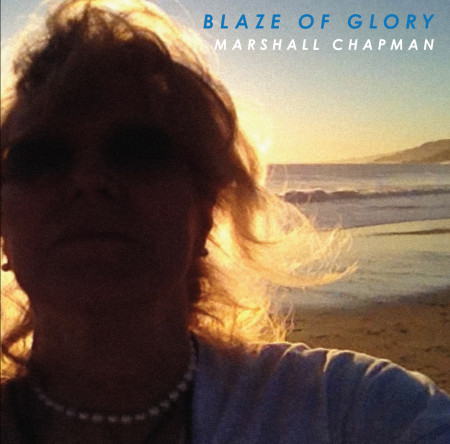 At this point the record shifts to a couple of uplifting songs, Waiting For the Music and Call the Lamas, as preparation for the final two cuts.  Not Afraid To Die is an unabashedly country song, with a great choir in the background, where Chapman sings, "I did everything I could to die young."  That's a tortured musician's anthem if ever there was one.  But it's not the end of that vein.  The album finishes with the title cut, a sort of autobiographically look at her early life where she notes, "I never intended to make it this far."  Even though it finishes with those two views on mortality, it seems the natural other bookend to the rock and roll that starts the disc.
As you can tell, I'm really enamored with Blaze Of Glory.  It's easily one of the best things I've heard this year.  The songs, the talent, the music, the production, is all top notch.  Highly recommended.
---
About the author:
I've actually driven from Tehatchapee to Tonopah. And I've seen Dallas from a DC-9 at night.
---