ALBUMS OF THE MONTH
The Low Highway, by Steve Earle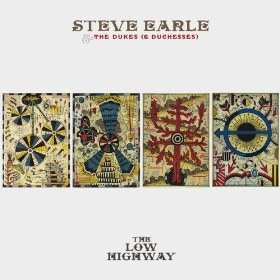 The burden of Steve Earle"s legacy is mighty awesome. Since he emerged in the mid-1980″s he has established — and maintained — an incredible standard with his songwriting. His latest release continues the trend.
Earle passed through Boston recently and talked about how this album was hatched during the tour to support 2011″s I"ll Never Get Out of This World Alive. He was inspired by the social and economic struggles that he saw around him and a desire to record with the musicians with whom he was touring. Once songs were in hand, he invited his touring band into the studio and The Low Highway was born.
That inspiration manifests itself across the release. The title track speaks of those travels. Against a slow and methodical strummed melody accompanied by Eleanor Whitmore"s forlorn fiddle, Earle sings about his experience,
Up the coast and down and back again
Saw empty houses on dead end streets
People linin' up for somethin' to eat
And the ghost of America watchin' me
In concert, Earle introduces the song "Invisible" with the story behind the song. After several years living in his Greenwich Village neighborhood, he only recently noticed a soup kitchen in a nearby church. When he discovered that the soup kitchen had been there for years, the impact of the economic downturn became apparent and real in the increased number of people who needed the kitchen"s assistance. "Everywhere I go people pass me by," he sings, "they never know "cause I"m invisible." Stated as a matter of fact, it strikes a powerful emotional chord.
"Calico County" is something of an updated version of "Copperhead Road." Whereas "Copperhead Road" told of a soldier returning home to find his only economic option is to run moonshine, "Calico County" finds the character turned away by the army and resigned to a life of transforming cold pills into methamphetamines. The bruising electric guitars leave little doubt as to the austerity of the character"s life.
Earle has clearly found some inspiration from New Orleans, where he has spent time filming the HBO series "Treme." The city"s flair infuses tracks like "That All You Got" and "After Mardi Gras," a gem that tells the tale of a relationship ended just prior to Mardi Gras.
There"s so much I need to do before I get over you
But I can"t bother with it all until after Mardi Gras
Right now I ain"t got the time to sit at home and cry
When outside it"s carnival
Although Earle is generally known for character-driven songs and political missives (some might say missiles), his most powerful songs are often his most personal. "Remember Me" is another classic in that cannon. The song finds an aging father wishing his son a life of strength and happiness while acknowledging his own mortality.
You're lookin' at me I'm lookin' at you
And it's everything a grown man can do
Not to break down and cry like a fool
When you smile at me
I can only that hope I do my best
With whatever time that we got left
And when everything's done and said
You'll remember me
If that ain"t enough to bring some mist to your eye, then I don"t know what would.
Audio Stream: Steve Earle, "The Low Highway"

Audio clip: Adobe Flash Player (version 9 or above) is required to play this audio clip. Download the latest version here. You also need to have JavaScript enabled in your browser.
---
Small Town Talk, by Shannon McNally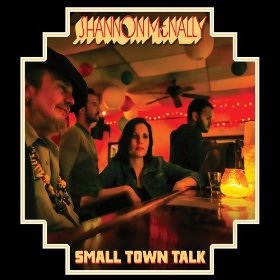 There are just some albums that radiate so much warmth that you just know that the artists had fun recording them. In this case it was a labor of love that brought together Shannon McNally and Dr. John to record a collection of songs by the late songwriter Bobby Charles.
Charles, a Louisiana native, wrote classic songs like the Fats Domino classic "Walkin" to New Orleans" and has co-written songs with everyone from Willie Nelson to the Band"s Rick Danko. And it"s hard to top this credential: he appeared at the Band"s "The Last Waltz" concert. Alas, he was not included in the film.
Although Charles" biggest hits don"t appear on this release, they are hardly missed. McNally and Dr. John, ably assisted by Charles prior to his death in 2010, pick a stellar batch of songs from the Charles catalog. Joined by the Doctor"s Lower 911 band and guests that range from Vince Gill to Derek Trucks, McNally and Dr. John makes the songs come online slots alive. Songs like "I Spent All My Money" and "Love in the Worst Degree" crackle with Southern swagger and charm
If you"re familiar with Charles, then you"ll love these performances. If you"re not familiar with Charles, grab this release immediately for a healthy dose of feel good R&B.
Audio Download: Shannon McNally (with Dr. John), "Long Face"

Audio clip: Adobe Flash Player (version 9 or above) is required to play this audio clip. Download the latest version here. You also need to have JavaScript enabled in your browser.
---
THE PLAYLIST
---
Down the Road, Ian McFeron (from the self-released Time Will Take You)
Even in its darkest moments, there"s an uplifting quality that permeats Ian McFeron"s latest release. I"ve been trying to put my finger on it and finally settled on two things. What struck me first was the soulful warmth and enthusiasm in McFeron"s voice. Then there is the production, courtesy of Patty Griffin producer Doug Lancio, that is crisp and inviting. The combination, when set against McFeron"s evocative songs, makes for a fun listen.
Audio Download: Ian McFeron, "Down the Road"

Audio clip: Adobe Flash Player (version 9 or above) is required to play this audio clip. Download the latest version here. You also need to have JavaScript enabled in your browser.
---
The Rock, Deer Tick (from the forthcoming Partisan Records release Negativity)
I typically wouldn't include a track on a playlist several months before the associated album is released. This song, however, is a worthy exception. Singer-songwriter John McCauley channels the failure of his engagement into this tale of heartbreak. It starts slow and smoldering before exploding into a horn-fueled fury. This one will be in heavy rotation until the forthcoming Negativity is released…
---
Things Will Change, Treetop Flyers (from the Partisan Records release The Mountain Moves)
London-based Treetop Flyers sounds like America. Not the country but the band. The Flyers have a wonderfully expressive Southern California vibe, a bit of melancholy mixed with a freewheeling groove. Singer Reid Morrison"s voice has a delicate air, surrounded by the band"s rich harmonies.
Audio Download: Treetop Flyers, "Things Will Change"

Audio clip: Adobe Flash Player (version 9 or above) is required to play this audio clip. Download the latest version here. You also need to have JavaScript enabled in your browser.
---
Rule the World, Max Gomez (from the New West Records release Rule the World)
Any Gomez discussion has to start with his voice, rich and resounding. It conveys a sense of experience far behind his years. It makes for a winning combination when paired with his gentle and winsome songs.
I would drown out the cries with redemption songs

I"d part the truth from the lies

And the right from the wrong

Yeah, if I could rule the world

Audio Stream: Max Gomez "Rule the World"

Audio clip: Adobe Flash Player (version 9 or above) is required to play this audio clip. Download the latest version here. You also need to have JavaScript enabled in your browser.
---
Heatstroke, KaiL Baxley (from the Forty Below Records release Heatstroke / The Wind and the War)
As the story goes, a young KaiL Baxley received some coaching from a legendary musician who lived in his hometown. While Baxley is a bit more restrained than his mentor, one can definitely hear some of the lessons learned from the Godfather of Soul. A persistent piano and hand-clap inducing beat propel this song with Baxley"s soulful voice adding fuel to the fire. And keep an ear out for the simmering saxophone solo that would undoubtedly bring a smile to Maceo Parker"s face.
Audio Download: KaiL Baxley, "Heatstroke"

Audio clip: Adobe Flash Player (version 9 or above) is required to play this audio clip. Download the latest version here. You also need to have JavaScript enabled in your browser.
---
Cold October, Escondido (from the Kill Canyon Records release The Ghost of Escondido)
Nashville duo Jessica Maros and Tyler James channel the Southern California sound of the city from which they take their name. Their debut mixes a bit of roots and a bit of rock, with Maros' honeyed vocals wafting through the air.
Audio Download: Escondido, "Cold October"

Audio clip: Adobe Flash Player (version 9 or above) is required to play this audio clip. Download the latest version here. You also need to have JavaScript enabled in your browser.
---
Under Your Thumb, Carsie Blanton (from the self-released Rude Remarks and Dirty Jokes)
The ep"s title should give more than subtle hints as to Blanton"s attitude and verve. Her songs abound with swagger and flair. Best of all they just ooze fun.
you didn't like coffee, you didn't like smoke
rude remarks or dirty jokes
you didn't like wagers, you didn't like weed
well how do you like me now?
Audio Stream: Carsie Blanton, "Under Your Thumb"

Audio clip: Adobe Flash Player (version 9 or above) is required to play this audio clip. Download the latest version here. You also need to have JavaScript enabled in your browser.
---
Surrender, Michael Rank and Stag (from the self-released In the Weeds)
North Carolina singer-songwriter Michael Rank graduated summa cum laude from the Rolling Stones school of rock. That ain"t a bad thing "cause sometimes you need music with the edges properly scuffed. Exhibit A is this ballad whose raw sound gives it an emotional charge.
Audio Download: Michael Rank and Stag, "The Surrender"

Audio clip: Adobe Flash Player (version 9 or above) is required to play this audio clip. Download the latest version here. You also need to have JavaScript enabled in your browser.
---
About the author:
Mild-mannered corporate executive by day, excitable Twangville denizen by night.
---