Son Volt released their latest album, Honky Tonk, earlier this week.  Eli and I both are liking it, so we're going to offer you two reviews for the price of one.  First, here are Eli's thoughts.
"There is a world of wisdom inside a fiddle tune"- Jay Farrar, Down the Highway
Honky Tonk is a surprising return to form for Jay Farrar.  A country rock pioneer who co-fronted the legendary Uncle Tupelo, Farrar's post-Tupelo work has been decidedly mixed. His first record under the Son Volt moniker was the iconic Trace, which is thought by many to be one of the crowning achievements of the No Depression scene of the 1990's. Since the release of Trace, Farrar has drifted. He's produced a half dozen records under the Son Volt moniker, including 4 with this new lineup christened in 2005. He's also collaborated on projects with the likes of Jim James (My Morning Jacket), Anders Parker (Varnaline), Will Johnson (Centro-Matic), Steven Drozd (The Flaming Lips), and Ben Gibbard (Death Cab). But, he's never made anything that approached the standard set with Trace. For my money, Honky Tonk at least approaches that standard.
The biggest problem with Farrar is also his biggest asset, his voice. It is a dusty baritone that once described as so evocative that he could sing the dictionary and people would still listen. Unfortunately, that analogy has proven more apt than one would have thought. Farrar has a tendency to write lyrics that show off an overly verbose vocabulary and even worse has at times sounded exactly like he was singing the dictionary. The latter issue is what really lowered the stakes for me. Farrar's lethargic delivery causes the listener to lose (or never accept) the emotion of the song. Luckily, Farrar seems more energetic than he has in years on Honky Tonk.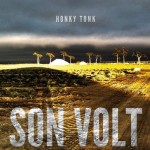 The dueling fiddles that open the record announce a different sort of Son Volt record. Though most of the record is not quite as honky tonk as the title would have you believe, the record does ring with a more traditionalist attitude. Whether it's inspiration from the classics, the adding of lap steel guitar to his list of credits, or just a good batch of songs, Farrar's performance on this record finds an emotional resonance that causes the listener to commiserate. Highlights include the Trace-like Wild Side and the quotable Down the Highway, which recalls the classic, stripped down Uncle Tupelo record March 16-20, 1992.
Eli Petersen
The name of this album, Honky Tonk, says it all.  It's filled with pedal steel and fiddles in addition to the guitars and drums you expect from Son Volt.  The set list for the disc is mostly filled with country waltzes and 2-step honky tonk ballads.  Half of the songs would be at home on any jukebox on any dive in middle America.
Fortunately for Jay Farrar fans, he keeps his lyrical talent pushing forward, even as the music harkens back to a simpler time in country music.  On Livin' On he suggests that "without time, there is no devotion."  On Barricades he admonishes "don't let the barricades of life keep the wild spirit still."  That's pretty much what you expect from a Son Volt song.
What grabbed me about Honky Tonk, though, was the music.  Arguably it's the next logical step from Farrar's original country rock influences like Graham Parsons and The Flying Burrito Brothers.  With the classic country back-beat, songs like Hearts And Minds and Wild Side could segue straight into today's alt country or just as easily introduce a Patsy Cline number.  At the end of the day that's what attracted me so much to this record.  It's classic sound will play just fine on today's alt-outlaw-alternative radio channels as easily as it would in any of the sh*t kicker bars where I grew up.
---
About the author:
I've actually driven from Tehatchapee to Tonopah. And I've seen Dallas from a DC-9 at night.
---