I posted a best songs list for the first half of 2012 back in July (here). Rather than replicate that list for my full year review, consider this the continuation — the best songs from the second half of the year.
---
Love Changes Everything, Session Americana
(from the self-released
Love and Dirt
)
Session Americana wrap their voices around Amy Correia's radiant ode to love. Simply sublime.
Night after night passes like a long slow train
I'm uncertain when we might see each other again
I put my heart into this simple refrain
so you could hear me in it when I say
Love Changes Everything
Audio Download: Session Americana, "Love Changes Everything"

Audio clip: Adobe Flash Player (version 9 or above) is required to play this audio clip. Download the latest version here. You also need to have JavaScript enabled in your browser.
---
And It's Such a Drag , Matthew Ryan (from the self-released In the Dusk of Everything )
Few artists match Ryan in expressing raw emotion in song and performance. Here's the evidence.
Audio Download: Matthew Ryan, "And It's Such a Drag"

Audio clip: Adobe Flash Player (version 9 or above) is required to play this audio clip. Download the latest version here. You also need to have JavaScript enabled in your browser.
---
The Great Despiser, Joe Pug
(from the Lightning Rod Records release
The Great Despiser
)
The mark of a great songwriter is the ability to grab your attention with an infectious melody while challenging you with intelligent lyrics. By that standard, Joe Pug sets a high bar for his peers.
Audio Stream: Joe Pug, "The Great Despiser"

Audio clip: Adobe Flash Player (version 9 or above) is required to play this audio clip. Download the latest version here. You also need to have JavaScript enabled in your browser.
---
Drive, Danielle Miraglia (from the Tribal Mischief release Grooving Forward, Volume 1, originally released on Box of Troubles)
Sometimes it's the simple things that are the most striking. I stumbled across this song when it appeared on the Grooving Forward, Volume 1 benefit compilation. Miraglia's honeyed vocals, set against a gentle acoustic and pedal steel guitar accompaniment, are enchantingly beautiful.
Audio Download: Danielle Miraglia, "Drive"

Audio clip: Adobe Flash Player (version 9 or above) is required to play this audio clip. Download the latest version here. You also need to have JavaScript enabled in your browser.
---
If You Need Some (Come and Get Some), Christian McNeill and Sea Monsters (from the Q-Dee Records release Everything's Up For Grabs )
Christian McNeill and the extremely talented Sea Monsters serve up the perfect blend of rock and soul. A horn section adds a rousing exclamation point.
Audio Download: Christian McNeill and Sea Monsters, "If You Need Some (Come and Get Some)"

Audio clip: Adobe Flash Player (version 9 or above) is required to play this audio clip. Download the latest version here. You also need to have JavaScript enabled in your browser.
---
All the Good You Lose, Kasey Anderson and the Honkies (from the self-released Let the Bloody Moon Rise )
As long as there's a world that spins, all the good you lose comes back again.
Audio Download: Kasey Anderson and the Honkies, "All the Good You Lose"

Audio clip: Adobe Flash Player (version 9 or above) is required to play this audio clip. Download the latest version here. You also need to have JavaScript enabled in your browser.
---
Keep Your Heart Young, Brandi Carlile
(from the Columbia Records release
Bear Creek
)
Carlile's ode to childhood and growing up hits all the right notes. It shines with a sparkle that is contagious.
My grandpa gave me a wheat penny and I kept it in my pocket
Had big plans in my backyard to build me a space rocket
Talked to my brother on a fake CB that I made from a tic-tac box
Packed my snowballs nice and tight and in the middle I put rocks

Don't trade in your tic-tac box for a ball on the end of the chain
And don't go spending grandpa's pennies buying into the game
You gotta keep your heart young
Don't go growin' old before your time has come
You can't take back what you have done
You gotta keep your heart young.
Audio Stream: Brandi Carlile, " Keep Your Heart Young"

Audio clip: Adobe Flash Player (version 9 or above) is required to play this audio clip. Download the latest version here. You also need to have JavaScript enabled in your browser.
---
Waking Up the Dead, Matthew Perryman Jones (from the Cante Jondo release Land of the Living)
There's an urgency that propels this song, with a musical and lyrical self-assurance that commands attention.

Where did I go wrong?
I lost my head
I want to dance on fire
And be born again
I can hear the voice
That's raising up the dead
Audio Download: Matthew Perryman Jones, "Waking Up the Dead"

Audio clip: Adobe Flash Player (version 9 or above) is required to play this audio clip. Download the latest version here. You also need to have JavaScript enabled in your browser.
---
Mercy, Ben Kyle
(from the La Traviata Records release
Ben Kyle
)
Let the water flow, let the light shine
Let the blood go through me like a river winds
Through the valley, through the meadow
Through my spirit and my soul just like a river goes
Through the mountain, under the moonlight
Let the blood go through me till I truly see the light
Audio Download: Ben Kyle, "Mercy"

Audio clip: Adobe Flash Player (version 9 or above) is required to play this audio clip. Download the latest version here. You also need to have JavaScript enabled in your browser.
---
One Day, Jones Street Station
(from the self-released
Perennials Project
)
A haunting tale of two ex-lovers encountering one another several years later, neither recognizing the other. From the band's description of the song:
There's something impossibly tragic and poignant about that…to think that they spent such an important time in their lives together, and now they can't even recognize the other's face: "Nothing left to mark our fall / The greatest years become so small / One day I won't recognize you at all'
Note: The entire Perennials Project archives — plus new selections each week — are available for free via the Jones Street Station web site.
Audio Download: Jones Street Station, "One Day"

Audio clip: Adobe Flash Player (version 9 or above) is required to play this audio clip. Download the latest version here. You also need to have JavaScript enabled in your browser.
---
Stay Away From Downtown, Redd Kross (from the Merge Records release Researching the Blues)
A welcome return to these masters of power pop, chock full of guitar riffs, raucous drum beats and plenty of "sha la la" harmonies.
Audio Download: Redd Kross, "Stay Away From Downtown"

Audio clip: Adobe Flash Player (version 9 or above) is required to play this audio clip. Download the latest version here. You also need to have JavaScript enabled in your browser.
---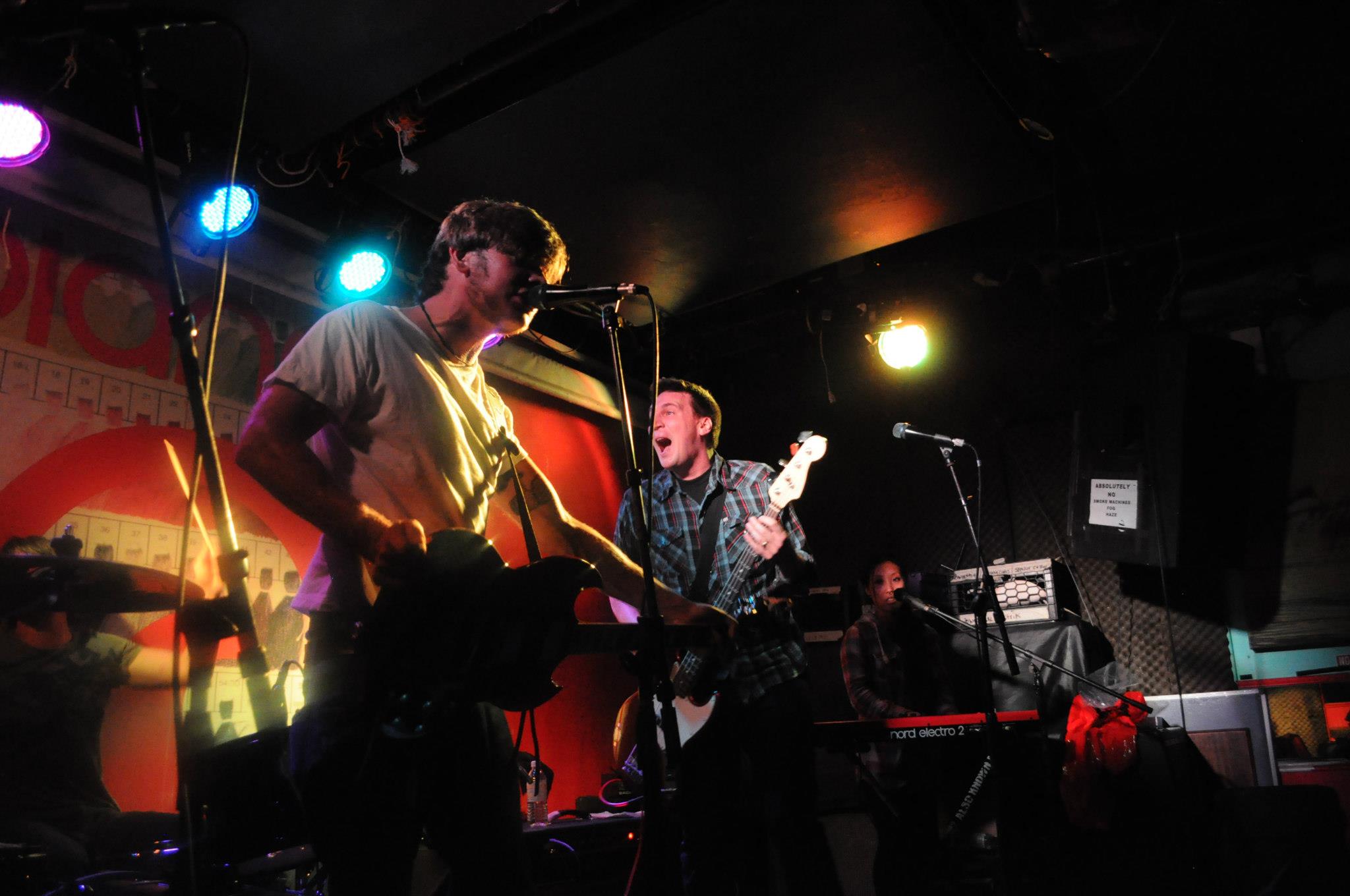 Revelry, The Vansaders
(from the self-released
The Vansaders
)
An unbridled rock and roll electricity surges through this song. If you're not playing it loud, you're not playing it right.
Audio Download: The Vansaders, "Revelry"

Audio clip: Adobe Flash Player (version 9 or above) is required to play this audio clip. Download the latest version here. You also need to have JavaScript enabled in your browser.
---
Click here for more Twangville Best of 2012 coverage.
---
Photo Credits: All photos courtesy of the respective artist or record label except: Joe Pug (Todd Roeth), Jones Street Station (Deneka Peneston: dpeniston.phanfare.com)
---
About the author:
Mild-mannered corporate executive by day, excitable Twangville denizen by night.
---