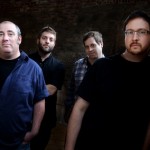 The Longwalls are a regional band from the Boston scene. They mix Power Pop riffs and melodies with Americana influences and instrumentation. The bands new EP, "Kowloon" is releasing on December 4th. With eight songs, "Kowloon" is closer to an album than an EP. This is a band that deserves more than a regional following. They are able to balance a delicate mixture of musical styles into a coherent collection of songs. They blend Pop melodies, synthesized atmospherics and Americana undertones. I am not sure quite how they pull it off, but the end result is a musical stew (since they are from Boston I should probably call it a "chowdah") with a perfect recipe.
The album starts off with the anthemic and atmospheric "Vasa". They then follow it up with two Pop masterpieces, "Big MT and "Long for Shipwrecks". The latter is a very catchy tune employing pedal steel and mandolin. Throughout these eight songs there is a balance of acoustic and electronic instrumentation. Their sound is both modern and classic at the same time. Just for fun they close with what is essentially a Country song, "Just Bring Me Peace". This collection of songs should be enjoyed by a wide audience. I hope the Longwalls are discovered outside of their New England home base.
Audio Download: The Longwalls, "Big MT"

Audio clip: Adobe Flash Player (version 9 or above) is required to play this audio clip. Download the latest version here. You also need to have JavaScript enabled in your browser.
---
About the author:
Chip and his family live in Birmingham, AL. Roll Tide!
---