I first heard Los Angeles-based garage rockers the Shys on Little Steven's Underground Garage, where they were featured as the purveyors of The Coolest Song in the World with their insta-garage classic, "Never Gonna Die." That fuel-injected selection was the second song of their Saturday night set at Prague, their final South-by performance this year, and it followed what struck this listener in retrospect as a curious choice of an opening selection. Why curious? Well, to my ears, their opener was the only less than stellar cut in an otherwise dazzling set that was filled with one hit-in-a-just-world crowd-pleaser after another. By the time the set was over, I don't think I could even tell you how many times I had revised my opinion as to which was the best song they'd played, because pretty much all of them were contenders.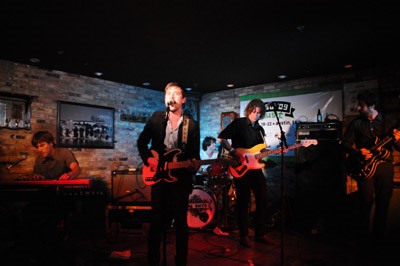 As an added bonus, during the set, frontman Kyle Krone asked if the Takeover UK were still in the house, inviting them to join the band onstage if so. I love it when bands that I dig join forces — it's like the rock 'n' roll equivalent of a superhero team-up. Turns out the two bands have shared bills in the past and, sure enough, one of the Takeover UK guys jumped up to join the Shys for "She's Already Gone," and Takeover frontman Nic Snyder later joined in for the raucous set closer.
When the stars align (as they so often do at South-by) and you get to see a band like the Shys for the first time, and when song after song lights up your pleasure center like a pinball wizard … it's shows like these that make you glad to be alive. In the throes of such euphoria, one might even be forgiven for ending a review by saying that shows like this one leave audience members (or at least this audience member) feeling like they're "Never Gonna Die."
Alas, it's not from the set that I caught, but dig this video of the Shys performing "She's Already Gone" at one of their day party appearances earlier in the week at South-by:

Want to read more highlights from this year's South-by? Step right up for all of John's SXSW '09 highlights.
---
About the author:
John Anderson is a SXSW addict, having attended "South-by" every year since 1999. His South-by geekery spilled over into the realm of blogging in 2006, and he is grateful to the Twangville audience for having indulged his South-by ravings since 2008.
---