Daydreaming.  I had trouble getting this review of the latest release from MilkDrive, Waves, together because every time I would start writing I put the album on to play and next thing I knew I was staring out the window, mind completely lost in other thoughts.  They paint such immersive pictures it's as if you're laying in the back yard watching the clouds and thinking about what they resemble.  Or out on a moonless night looking at the stars trying to figure out how the ancients thought that constellation was a scorpion.  What was that joke about the scorpion and the frog.  I haven't had frog legs in a long time.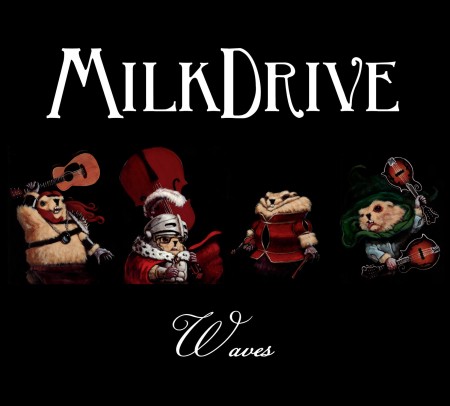 I have to attribute much of that free form association to the band themselves.  All musicians extraordinaire, they're as much a jazz band as they are bluegrass or Americana.  So the solos and instrumental songs immediately challenge your expectations much like Bela Fleck or Alison Brown do with their best works.  Benny's Bus certainly has that Flecktones sound, as does Tom's Ranch.  Speaking of the Flecktones, Futureman guests on an outstanding cover of The Beatles Dear Prudence.
Waves is not a single vector, instrument-focused effort though.  Featuring fiddler Brian Beken's vocals, the opening Papers On the Table offers the harmonies the band has honed even beyond the previous Road From Home album.  The title track presents one of those immersive moments I mentioned earlier with an allegory of how life can resemble the white noise of waves crashing on the beach.  Run & Hide immediately sent me to the first time I heard Joni Mitchell's Big Yellow Taxi, though I can't really tell you why it presents that image to me.  And their version of the James McMurtry song, Gulf Road, would be at home on any singer-songwriter record.
When you put it all together, Waves is a music lovers delight.  It includes traditional Americana numbers as well as a couple of songs that lean to the avant garde.  It has instrumental tracks showcasing instrumental skills and vocal harmonies with pop sensibilities.  So this summer when you're at the beach, put in your earbuds, hit play on Waves, and just let your mind wander where the music takes you.
---
About the author:
I've actually driven from Tehatchapee to Tonopah. And I've seen Dallas from a DC-9 at night.
---