Bahamas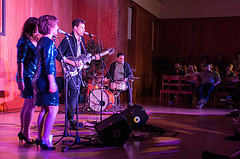 Former Feist guitarist Afie Jurvanen, who performs as Bahamas, caught my ear with his second release earlier this year. Live he takes it to another level, creating an ambiance that makes his already strong songs even stronger. Part of the reason is the distinctive make-up of his band: electric guitar, drums and two back-up female vocalists. While the quartet performs with a subdued and relaxed energy the sound that they create is surprisingly full. And Jurvanen has a magical touch with his guitar solos: never flashy, always good.
Audio Stream: Bahamas, "Caught Me Thinking"

Audio clip: Adobe Flash Player (version 9 or above) is required to play this audio clip. Download the latest version here. You also need to have JavaScript enabled in your browser.
The Lumineers
I caught two or three (it's all a blur!) of the Lumineers Austin marathon. The first was an early-afternoon affair at a music club, the second was an evening showcase in a church sanctuary. Both were magnificent, showcasing the band's intelligent songwriting and heart-felt playing. They engaged the crowd with their sing-along choruses, stepping into the crowd at the club and spreading around the church sanctuary to create what they deemed "surround sound." Two venues, two equally incandescent performances.
Audio Download: The Lumineers, "Ho Hey"

Audio clip: Adobe Flash Player (version 9 or above) is required to play this audio clip. Download the latest version here. You also need to have JavaScript enabled in your browser.
Lydia Loveless
Fresh from her appearance at our Columbia showcase, Loveless and crew tore through Austin with their firebrand mix of country and rock-and-roll. I saw one critic complain about performers playing covers during their official SXSW showcases, which made Loveless' opening cover of Fleetwood Mac's "You Can Go Your Own Way" even ballsier.
Audio Download: Lydia Loveless, "Can't Change Me"

Audio clip: Adobe Flash Player (version 9 or above) is required to play this audio clip. Download the latest version here. You also need to have JavaScript enabled in your browser.
Tom Morello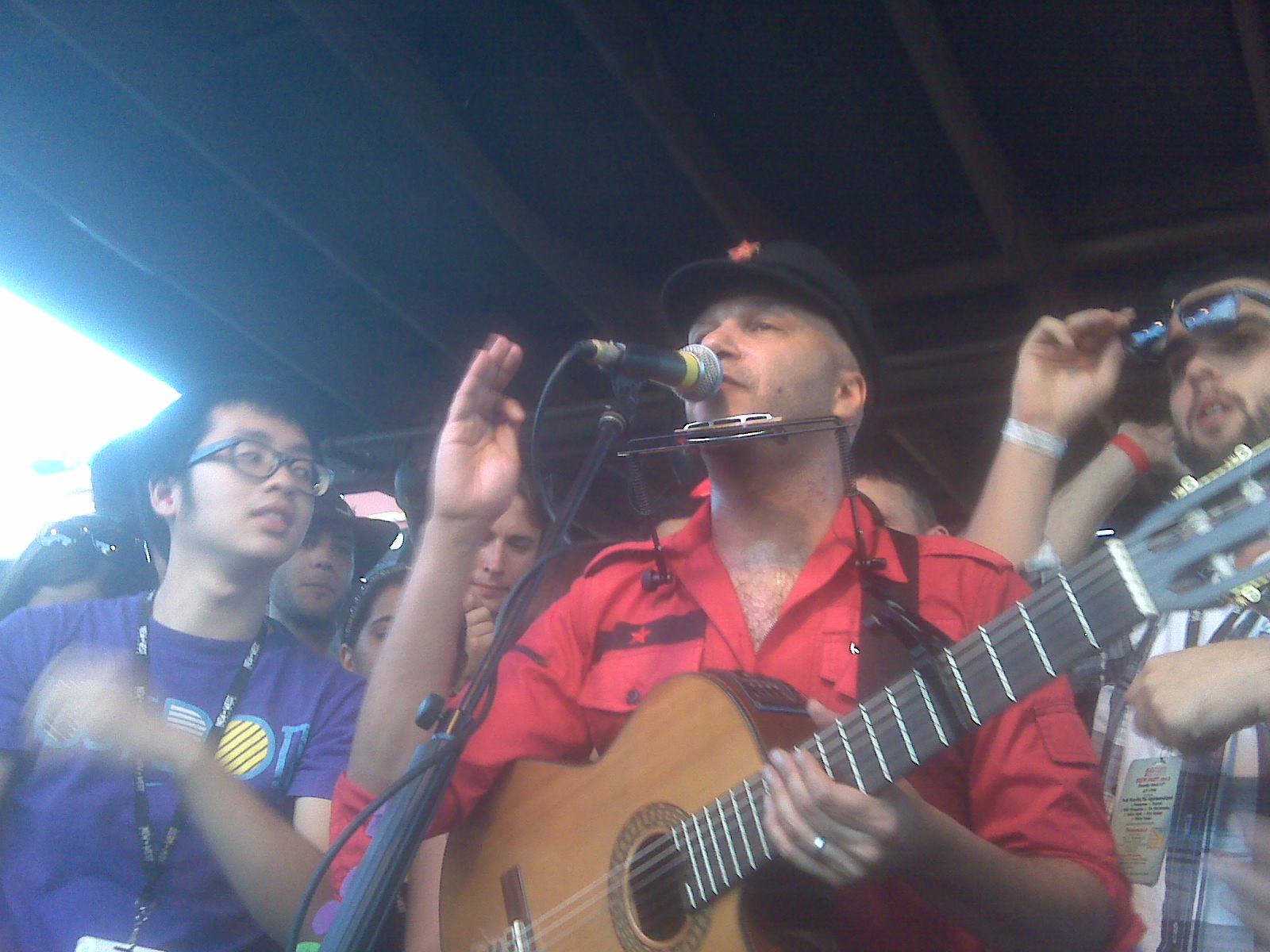 One might suspect that the former Rage Against the Machine guitarist, having spent time touring stadiums and arenas, would be a seasoned live performer. Seeing him do his solo thing as "The Nightwatchman" merely confirms the fact. Backed by a ferocious three-piece band, Morello unleashed a firestorm from his acoustic guitar. I caught Morello twice and each set was filled with songs of protest and rebellion, every one packing a lyrical punch yet catchy as hell. Morello typically invites the crowd onto the stage for his closing number and Austin was no exception. Far be it for me to refuse the invitation and here is my picture to prove it.
Audio Download: Tom Morello, "It Begins Tonight"

Audio clip: Adobe Flash Player (version 9 or above) is required to play this audio clip. Download the latest version here. You also need to have JavaScript enabled in your browser.
James McMurtry
The first show that I saw in Austin was James McMurtry playing to a small crowd at the Continental Gallery. I can't imagine a better way to start the Austin experience than seeing one of the town's talented sons play an intimate solo acoustic set. It would be easy to say that McMurtry is a favorite because of his dry and biting wit, but that just doesn't do him justice. His songs are filled with rich story-telling and vibrant detail, often overshadowing his guitar-playing prowess. "Levelland," a personal favorite, was played much slower in tempo, giving the song a much more somber feel.
The Biters
There are times when you want to get lost in an unbridled guitar attack. When those times arrive, seek out the Biters. The Atlanta quartet will wallop you with their guitars while simultaneously pumping you up with sugary melodies. It's addicting!
Audio Download: The Biters, "Born To Cry"

Audio clip: Adobe Flash Player (version 9 or above) is required to play this audio clip. Download the latest version here. You also need to have JavaScript enabled in your browser.
Bob Mould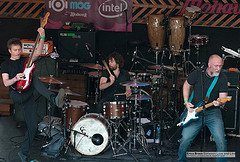 A few days before SXSW Mould announced that he had signed to Merge Records and would be releasing a new album this fall. To get everyone primed – or perhaps just to celebrate the occasion – Mould dusted off Sugar's Copper Blue and played the album from start to finish, with a few extras thrown in for good measure. Mould, backed by bandmates Jon Wurster (Superchunk, the Mountain Goats) and Jason Narducy (Telekinesis, Robert Pollard band), cranked up his guitar and played with an intensity that left no prisoners.
Audio Stream: Sugar, "Helpless"

Audio clip: Adobe Flash Player (version 9 or above) is required to play this audio clip. Download the latest version here. You also need to have JavaScript enabled in your browser.
---
Click here for more Twangville coverage of SXSW.
Photo credits: John McNicholas (Tom Morello); Erica Bruce/Between Love and Like (Bob Mould).
---
About the author:
Mild-mannered corporate executive by day, excitable Twangville denizen by night.
---