Antonio Lulic
A late start at the venue limited me to just a couple of songs from this singer-songwriter from North East London. His songs have a quiet intensity and his voice a weathered timbre, a pairing that combined for an impassioned performance.
Audio Download: Antonio Lulic, "Hey, It's Okay"

Audio clip: Adobe Flash Player (version 9 or above) is required to play this audio clip. Download the latest version here. You also need to have JavaScript enabled in your browser.
Glen Hansard
The skills that Hansard honed while busking the streets of Dublin early in his career haven't left him. Although claiming to be nervous standing on a stage by himself with a guitar, he performed with a confidence that demonstrated his musical and performing prowess. Hansard has a distinct way of connecting with his audience, one minute delivering a spine-tingling performance, the next minute showcasing his sharp wit with his between song banter. My only complaint? It's been far too long since Hansard has shared new music with us! The good news is that he will be sharing a new release in June.
Barfield
The self-proclaimed Tyrant of Texas Funk lived up to the title with a raucous set that got the joint jumping. The unassuming Barfield owes as much to James Brown as he does to Bob Wills.
Audio Download: Barfield, "Ask My Baby"

Audio clip: Adobe Flash Player (version 9 or above) is required to play this audio clip. Download the latest version here. You also need to have JavaScript enabled in your browser.
Brendan Benson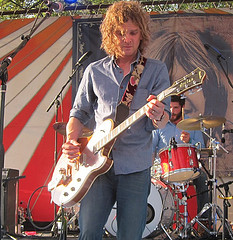 Nashville by way of Detroit pop rocker Benson is about to unleash his fifth solo album. I caught Benson play a vibrant afternoon set with his band. His set included a few new tracks mixed in with the old, all boisterous power pop songs that burst with energy. I, for one, am looking forward to the new release.
The Dunwells
The stage where the Dunwells performed their official showcase could barely fit the band. Even more notable, the venue could hardly contain the youthful energy of the their music. The quintet from Leeds, England had a well-honed Americana sound made all the better by the group's brilliant harmonies.
Audio Download: The Dunwells, "I Could Be a King"

Audio clip: Adobe Flash Player (version 9 or above) is required to play this audio clip. Download the latest version here. You also need to have JavaScript enabled in your browser.
Frank Turner
Turner is the embodiment of rock and roll, a rebellious spirit with an impeccable sense of melody. With just an acoustic guitar he captivates a room, passionately spitting out lyrics one minute then cracking jokes the next.
Gush
I only got a short glimpse of this quartet from Paris but it was enough to grab my attention. The boys are well-studied in the classics, from Neil Young to Queen to the Rolling Stones. They swapped instruments about as much as they traded vocals, making for a really fun set.
Audio Download: Gush, "Let's Burn Again"

Audio clip: Adobe Flash Player (version 9 or above) is required to play this audio clip. Download the latest version here. You also need to have JavaScript enabled in your browser.
---
Click here for more Twangville coverage of SXSW.
Photo credits: 30 Days Out (Brendan Benson).
---
About the author:
Mild-mannered corporate executive by day, excitable Twangville denizen by night.
---