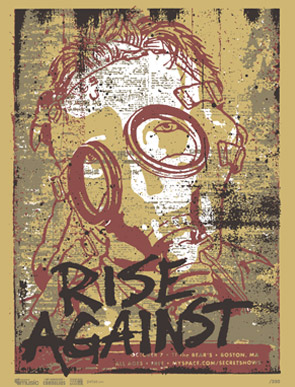 After a long wait, the MySpace Secret Shows finally hit Boston last week. In earlier editions, New York got Neil Diamond at the small but legendary Bitter End while Eagle Rock California got Rilo Kiley at a bowling alley. Heck, even Billings Montana got the Hold Steady. Boston got… Chicago punk band Rise Against.
Gotta give the boys credit, it was a high energy set. The band was clearly on a high as they celebrated their latest release, which hit stores earlier that day. They made the requisite Red Sox reference, to which the crowd responded with the obligatory chant "Yankees Suck." The band egged the crowd on with an impromptu guitar solo-led jam.
The evening was everything one would expect in a punk show. At times it was hard to tell who was more energized, the band or the audience. In the end it didn't matter — the crowd fueled the band while the band fueled the crowd. As an added bonus everyone in attendance left with a hand-numbered, limited edition poster. How's that for a punk momento?
---
About the author:
Mild-mannered corporate executive by day, excitable Twangville denizen by night.
---