They haven't allowed smoking in years, but the rafters still have that slight air of stale cigarettes.  The Fire Department long ago made them sweep up the sawdust, but of course you can never really get rid of all it.  The Polaroids above the bar are too faded to know who's in them, unless of course you know who's in them.  The same brand of beer has flowed from the taps for 50 years, and it's brewed in supertanker-sized vats in St. Louis or Milwaukee.  Aside from the beer, the most important thing to know about this place is that every Saturday night there'll be a band that's equally perfect for a two-step with your girl or getting lost in a longneck.  They're a dying breed nowadays with the popularity of outlaw music and Jaeger shots, but thankfully the old-fashioned honky tonk still exists in wide swathes of America where soul is still more important than style.
While the jukeboxes in these wonderful havens of Americana tend to be loaded with George Jones and Merle Haggard, there's a new album from Cahalen Morrison & Country Hammer that fits in like a favorite pair of boots.  The Flower Of Muscle Shoals is everything you want in good old classic country music, but with all original songs from Morrison it's like finding a time capsule full of new stuff that's decades old.
Over And Over And Over Again is one of my favorites on the disc.  Morrison channels some of the sorrowfulness of Raul Malo into a lament about tying one on to forget, "if I tie it tightly, it won't come undone."  There's a nice little Jones or Haggard fatalism in I've Won Every Battle, But Lost Every War.  It's not all melancholy.  Nighttime Is Here On the Valley celebrates the annual event, be that a rodeo or harvest festival, or sometimes just another Saturday night, "they whistle and they cheer, and they guzzle their beer".  San Luis and Hobbled And Grazing add some sweet Norteno swing from Morrison's youth growing up in New Mexico.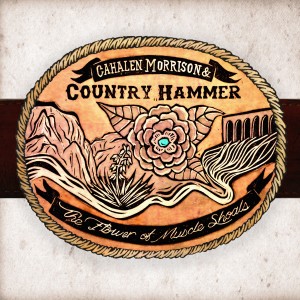 In case you're wondering, The Flower Of Muscle Shoals refers to Cahalen's wife.  The song is a good microcosm of the whole album.  It's romantic and redneck and twangy and I'll be damned if it isn't one of the best records I've heard all year.