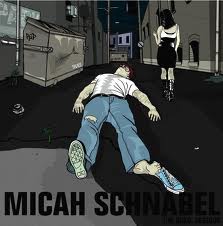 I'm Dead, Serious is the second solo record from Two Cow Garage frontman Micah Schnabel. It follows 2010's acoustic bombshell, When The Stage Lights Go Dim. In between the two, Two Cow Garage put out their fifth record Sweet Saint Me.
So, dude's been busy.
His lyrics, as always, are phenomenal, opening with a chorus of "so you keep your little choir boys/ they sing so sweet/ but they don't make noise like I do/ like I did, in your heart." The music, however, didn't blow me away on the first couple of listens. Maybe it was because any record that followed When the Stage Lights Go Dim was gonna have a hard time living up to that bruised masterpiece, but I was initially underwhelmed by I'm Dead, Serious.
That being said, I listen(ed) to it constantly. Since I received my early pre-order copy in mid-December, I found myself returning to the record again and again. Whether in the car, at the computer, or listening to my 10 year old Ipod, I just gravitated towards it. The songs are great and have the emotionally charged lyrics and delivery that I love in bands/artists like Lucero, Frank Turner, Jen Buxton, The Hold Steady and of course Two Cow Garage.
Yea, some of the music and lyrics sound eerily similar to some of Schnabel's earlier work. But hell, I love everything he's put out, so why wouldn't I like this record? The answer is quit over-analyzing and enjoy.
Early favorites:
"Choir Boys"
"Heavy Things"
"The Confessional"
"Zen and the Art Of…."
---
About the author:
Specializes in Dead, Drunk, and Nakedness..... Former College Radio DJ and Current Craft Beer Nerd
---