by Mayer Danzig in Acoustic, Downloads, Reviews, Rock, Streams, Videos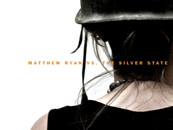 Matthew Ryan's voice can be an acquired taste, expressive and rough hewn. Yet it is a voice that conveys as much emotion as the instrumentation it accompanies. His emotional honesty and vulnerability are laid bare whether he's barking out "Johnny wanted a lot of things but Johnny didn't want to die" on "Drunk and Disappointed" or quietly lamenting "I only want to be the man you want" on the song of the same name.
As a songwriter, Ryan deftly explores the psyches of a troubled set of characters. He starkly portrays their bitterness at society and frustration with personal situations. His descriptions are hardened with inevitability and resignation yet there are touches of compassion in his lyrical voice. "I wish I'd known, maybe I could've helped you," he offers up on "They Were Wrong" yet realizes "you were already gone to the trouble that held you."
Ryan's musical accomplices provide the ideal accompaniment, moving seamlessly from the biting "Drunk and Disappointed" to the sparse "Jane, I Still Feel the Same." Most songs are built around scrappy guitars and a sturdy and stoic rhythm section, perfectly punctuated by piano and strings.
There are so many striking moments on MRVSS. The haunting suicide tale "It Could've Been Worse" opens with a steady beat that mimics a heartbeat while Ryan laments his friend's decision. "Hold on Firefly" is a course rocker driven by raw-sounding guitars and a persistent beat.
Ryan even offers a glimmer of optimism on the final track, "Closing In." Quietly majestic and somewhat ambient thanks to singer Kate York's angelic harmonies, the song finds Ryan in a contemplative mood. "Sometimes the weather can fall on you and sometimes it breaks," he observes, "Maybe we'll never win but we're closing in."
Ryan writes in the liner notes that his goal was to make a pure rock and roll record. He succeeded brilliantly.
Audio Download: American Dirt (HearYa.com Live Sessions)

Audio clip: Adobe Flash Player (version 9 or above) is required to play this audio clip. Download the latest version here. You also need to have JavaScript enabled in your browser.


[source: HearYa.com]
Audio Download: Dulce Et Decorum Est (HearYa.com Live Sessions)

Audio clip: Adobe Flash Player (version 9 or above) is required to play this audio clip. Download the latest version here. You also need to have JavaScript enabled in your browser.


[source: HearYa.com]
---
About the author:
Mild-mannered corporate executive by day, excitable Twangville denizen by night.
---