by Eli Petersen in Reviews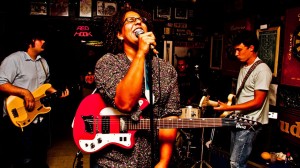 So a couple weeks ago I had this odd dream that Al Green had gotten My Morning Jacket to back him on a classic 1970′s record. It turns out it wasn't a dream, only Al Green was a woman, My Morning Jacket were the Alabama Shakes, and the record was recorded in 2011. Formerly known as The Shakes, The Alabama Shakes are a 4 piece band from Muscle Shoals, AL. The band has all the hallmarks of the classic Shoals sound, including a lock step rhythm section and more soul than any band with 3 white guys should rightfully possess. What makes the band unique though is their progressive take on a classic R&B sound, with sporadic guitar freak outs that bear out my earlier MMJ reference.
All that being said, the band is grounded by the voice of front-woman Brittany Howard, who recalls some of the best R&B singers of the 60′s and 70′s (names like Aretha Franklin, Al Green, Otis Redding, and Janis Joplin are easily referenced). I know this seems like som lofty language and may come across as a little hyperbolic to some, but hell I can't help it. This band is bad-ass. They are my new favorite band and I will anxiously await the release of their debut full length.
Check out the band here. Or go see them on tour, opening up for the Drive-By Truckers.
---
About the author:
Specializes in Dead, Drunk, and Nakedness..... Former College Radio DJ and Current Craft Beer Nerd
---