by Shawn Underwood in Americana, Reviews, Rock, Roots
Finally, Halloween is getting its musical due.  OK, OK, technically the latest album from Southern Culture On the Skids, Zombified, is a tribute to all the awesome grade B horror movies that used to come to the drive-ins and dollar theaters when I was mis-spending my youth.  But a tribute album is generally music that was written for whatever is being honored.  In this case, most of the tunes are original SCOTS compositions.  So it's more of a theme album.  And the theme is zombies and witches and vampires and bats.  That's Halloween, right?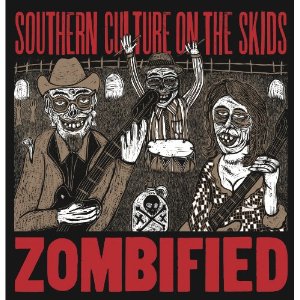 The disc starts off with the title cut that's a double entendre about a girlfriend being an actual zombie and just being in that state of mind, "she's more dead than alive, she's got no spark in her eyes."  Next up is Undertaker with a bubbling cauldron intro ala Monster Mash.  Then comes Swamp Thang that's full of Dick Dale and LInk Wray riffs.  By this point in the project you remembers that SCOTS has been around 25+ years and they can drop a groove on just about any kind of roots music.  The roots review continues with Bloodsucker, a Rastafarian beat to vampire lyrics.  One of the most fun songs is Torture, which starts with a woman's scream, then puts a Shirelles style 50′s spin on the sadistic side of relationships.

Not many bands could pull this album off.  It's chock full of sound effects and fun ear candy.  But it has the solid musicianship of SCOTS behind it, and the lyrics hold their own even without the horror flick background.  Having said that, go out and get this album to play at this year's Halloween party.  You don't have to be embarrassed about the music and yet it's going to add some ambiance to the evenings festivities.
Listen to these tracks: Torture, Bloodsuck, Zombified
---
About the author:
Support new music. Listen to a band or singer you've never heard of this week. I've been doing that for over 30 years.
---