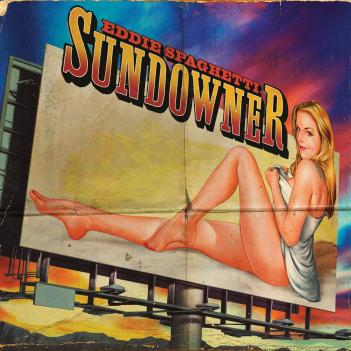 In what is shaping up to be the label roster of the year, Bloodshot has released another trademark, insurgent country gem. Eddie Spaghetti, the leader of infamous Seattle group the Supersuckers, stepped away from his buds of over 20 years to craft Sundowner, an album that might have a bit less venom, a tad more polish, but every ounce of the swagger that so many have come to identify the venerable band with over the years.
Think about it: Going back to last year's Justin Townes Earle triumph, Harlem River Blues, Bloodshot has been on a roll. Recent releases by Spaghetti, Exene Cervenka, and the upcoming Ha Ha Tonka record (which is also stellar) make a strong case for the well-established and respected label to remain so for some time to come.
The twang that has always informed the garage punk rock of the Supersuckers is given a far greater seat at the table here. In fact, that swooning AM Country gold flavor is pure refreshment in the case of his relatively straight-up take on Willie Nelson's classic, "Always on My Mind."
Of course, it wouldn't be possible, thankfully, for Spagheti to go a whole record without getting wild-ass and hell-bent. "Jesus Never Lived on Mars" is a roadhouse rocker that forcefully reminds any who dare listen who the hell he is and where he's from.
It's impressive enough for a fellow from the woodsy Northeast to sound so damn southern, and even more so when one considers that this record is really just a nice little sidebar for Spaghetti before he gears up for the Supersuckers next 20 years of dangerously greasy grooves.
---
About the author:
I likes me some wine, women and waffles, not always in that order (but usually). Chaucer is cool, but fart jokes are even better. You feel like spikin' your country with a little soul or mix in a little rock without the roll? Lemme hear from ya!!
---