Every now and then you get a reminder you can't judge a book by it's cover.  I downloaded the Carrie Rodriguez/Ben Kyle collaboration, We Still Love Our Country, with a little trepidation.  I'm thinking, are they going to try to outdo Toby Keith by gushing on an entire album?  Never fear, it should really be titled "we still love our country music".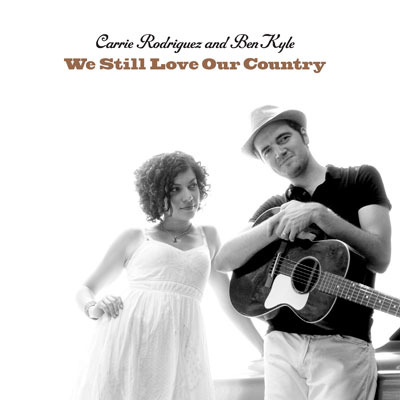 After Rodriguez knocked a couple of classic country covers out of the park last year on Love and Circumstance, I suppose this is a natural progression.  To start with the last song on the album, Love Hurts, she does it again in a duet with her partner on the album, Romantica front man Ben Kyle.  I feel like the standard for duets was set by Gram and Emmylou with this song, but I have to say Carrie and Ben are in the same league.  The other song where their vocals are so on target is My Baby's Gone, a Hazel Houser number that in this case reminded me of some of the old Porter Waggoner and Dolly Parton duets.
This project isn't all sad and melancholy pairings though.  I loved Fire Alarm, an original that's so John Prine (he ain't had a job since he was 30, his hands are small and his feet are dirty, some day I'm gonna make him mine) it comes off like a tribute.  Be sure to check it out if you like the Prine/Dement version of In Spite Of Ourselves from last year's In Person & On Stage.  And speaking of John Prine, they also cover his Unwed Fathers tune.
Clocking in at just under 30 minutes, We Still Love Our Country is barely more than an EP.  But aside from the opening Your Lonely Heart that's Nashville pop, every song hews to the theme.  It's a reminder there are a lot of country gems written before country was cool.  With an old soul take on several of them here, this album will push you to go back and listen to a few of those classics again.
---
About the author:
Support new music. Listen to a band or singer you've never heard of this week. I've been doing that for over 30 years.
---